-14 F
. wake-up temperature in St. Cloud Thursday morning.
-1 F
. maximum temperature yesterday. Doesn't seem right calling it a "high".
21 F
. average high on January 5.
27 F
. high temperature in the STC metro on January 5, 2016.
January 6, 1942
: The temperature rises from 32 below zero to 41 above in 24 hours in Pipestone.
10 minutes
of additional daylight since December 21, increasing 1-2 minutes every day.
Yukon Bling - We Earn Our Springs in Minnesota
A Minnesota January is an acquired taste. Iced lutefisk - with a Jagermeister chaser. Not for the timid or faint of heart.
And yet, armed with the right attitude (and clothing) these brisk fronts become almost tolerable.
A few things I've learned the hard way: if your feet and ears are warm you stand a better chance of braving the chill. A warm undershirt and socks help for drafty rooms. And warm shoes or boots can go a long way.
Research
suggests cold feet may cause blood vessels in our noses to constrict, lowering our immune response. Go figure.
20s early next week will feel like a revelation; another arctic slap the end of next week won't last as long. Weather models still suggest a moderate, Pacific flow in 2-3 weeks, with a string of 30s. Woohoo!
Although no mega-storms are brewing anytime soon a series of clipper-like systems
next Tuesday
,
Wednesday
and
Saturday
may drop plowable amounts of snow on Minnesota. The GFS prints out nearly 4-8 inches over a 10-day span.
Meanwhile, Atlanta may pick up an inch or two of slush
tonight
. Uh oh. Call out the National Guard.
---
Photo credit: UK Met Office.
---
Minnesota Snow Cover: The Have's and Have-Nots
. Head north if you want to romp in the snow; recent rain and ice has really taken a toll on snow cover over central and southern Minnesota. Here's an excerpt from the
Minnesota DNR's HydroClim
: "
Snow depths

across Minnesota range from as little as one or two inches in portions of central and southern Minnesota, to over twelve inches in northern Minnesota. Snow depth totals approaching two feet can be found in the far northwestern part of Minnesota, and the higher terrain of Cook County in northeast Minnesota. Snow depths are near, to above, historical medians for the date in the northern one-third of Minnesota. Snow cover is below the historical median for the date in many southern and central Minnesota counties
..."
---
Not Buying It - Yet
. This is 10-Day potential snowfall from the GFS, which has a nasty habit of over-estimating snowfall amounts. Do I think the Twin Cities will see 15-18" of snow by January 15. No, but the transition to a somewhat milder pattern may shift the storm track farther north, with a better chance of accumulating snow from the Dakotas into Minnesota, Wisconsin and Michigan. Source: Tropicaltidbits.com.
---
Plowable Snow for Atlanta, Charlotte, Raleigh and Richmond?
The map above shows 4 KM NAM guidance from NOAA, which has been printing out a consistent streak of accumulating snow. Rain will quick change to snow tonight in Atlanta and then push into the Carolinas an Tidewater region of Virginia. Atlanta may be a mess, the only saving grace: this snow event is coming on a weekend.
---
Not Hot-Lanta
. The local Atlanta NWS office is predicting close to 4" snow tonight into early Saturday from this next system, after a cold rain much of today. Here's the thing: it'll melt. Graphic: Iowa State.
---
AerisWeather Briefing
:
Issued Thursday
, January 5
th
, 2017:
* Confidence is growing on a high impact snowfall for parts of the Southeast and Mid-Atlantic as we head into the end of the week and the weekend. This includes places like
Atlanta, Charlotte, Raleigh and Birmingham
.
* Winter Storm Watches are in effect for 1-4" of snow across parts of the region,
which would be enough to cause major travel troubles
.
* The heaviest snow will fall in parts of eastern North Carolina and southeast Virginia where over a half a foot of snow will be possible.
* Back out west, we continue to watch waves of moisture for California move in into the weekend and early next week.
*
Rainfall totals of a foot or more are likely across parts of California through the weekend, which will lead to significant flooding.
Flash Flood Watches are in effect. Facilities that have had issues in the past with situations like this will likely see issues as we head into the weekend and next week.
---
Snow Coming To The Southeast.
The models have been coming into better agreement over the past 24 hours on a winter storm impacting the Southeast and the Mid-Atlantic as we head through the day
Friday
and into
Saturday
. However, it is noted that a slight shift in the overall track could still make some major changes as to who gets what from this system. At the moment we expect sleet/mix of rain and snow to form across parts of Mississippi, Alabama and into Georgia
tomorrow
, changing over to snow
tomorrow
night before pushing out during the day
Saturday
.
---
Winter Storm Watch.
Due to the impending snow threat, Winter Storm Watches have been issued for
Friday
through
Saturday
from Tuscaloosa and Birmingham through Atlanta, Charlotte and Raleigh. 1-5" of snow is expected. Source: Aeris AMP.
---
System Starts Off In The Southern Plains

Tonight

.
Snow will start spreading east into the Southern Plains as we head into the overnight hours, with Oklahoma City expected to wake up to an inch or two of snow
Friday
morning. A Winter Weather Advisory is in place
tonight
until
noon
Friday
for the Oklahoma City metro. This snow will cause slick roads for the
Friday
morning commute. Source: NOAA.
---
Snow Moves Into The Southeast.
As we head through
Friday
and into
Saturday
, snow will continue to spread into the Southeast and Mid-Atlantic, along with some sleet at times.
Even 1-2" of snow across these regions is enough to gum up the roads and make travel difficult or near impossible. The evening commute

Friday

will be slow in the Birmingham metro; however, at the moment it looks like the snow may hold off long enough for the evening commute in Atlanta.
There will be a band of 6"+ of snow in parts of eastern North Carolina into southeast Virginia. Source: Aeris Weather.
Local Snowfall Forecast
:
---
Birmingham, AL:
---
Atlanta, GA:
---
Charlotte, NC:
---
Raleigh, NC:
---
Newport/Morehead City, NC:
---
48 Hour Rain Totals.
Numerous reports of 2"+ of rain over the past 48 hours have come in across parts of northern and central California, with some reports of flooding as well. Meanwhile, snow has been piling up in the mountains as well, with reports of 24-46" of snow at Mammoth Mountain in California and almost 47" in the Sierra Madre Range in Wyoming. Source: NOAA.
---
More Heavy Rain/Snow This Weekend.
While we will have a break in the precipitation across most of California today and
Friday
, as we head into the weekend we will be watching another Atmospheric River situation set up over the west coast. An atmosphere river is essentially a plume of moisture that originates from the tropics/subtropics. These types of events typically bring heavy rain and snow with them to California, and according to NASA can be the cause of 30-50% of the precipitation California sees each year. However, they are also the cause of approximately 80% of floods in the state.
You can see the firehose of moisture coming out of the Pacific into the West Coast into the weekend, likely to cause very heavy rain and snow amounts. What could also make this worse is snow levels are expected to increase heading into the weekend, so heavy rain could fall on top of snowpack, making the flooding situation worse in parts of the mountains.
---
Flood Watches In Effect.
Flood Watches have been issued for the weekend across parts of central/northern California and western Nevada, including Sacramento and Reno. Rainfall totals of 3-15" will be possible through early
Monday
in these areas, leading to more flooding across the region.
---
Rain Into Monday.
Almost 4" of rain is expected to fall in the Bay Area into
Monday
with the weekend atmospheric river event; however the heaviest rainfall totals (a foot or more) will be toward the Sierras, where snow levels are likely to be only as low as 8,000 feet. This heavy rain will fall on top of already saturated soils from the last few days – or, in some locations, on top of snowpack – which will lead to excessive runoff and flooding of roads, rivers and urban areas.
With the very heavy rain expected, I see the potential of a significant flooding event across the region. Facilities that have had issues in the past with situations like this will likely see issues as we head into the weekend and next week.
---
Significant River Flood Threat.
We are expected to see numerous rivers reach or exceed flood stage as we go through the weekend. Already two rivers are expected to reach major flood stage.
---
Record Crests Possible?
This is the forecast for the Merced River near Yosemite National Park, which is expected to crest at 23.1' during the day
Sunday
. This would almost match the historic level reached back in January of 1997. That flood ended up causing $178 million in damages to Yosemite National Park and caused visitors to be trapped for days as all roads to get out of the park were flooded.
---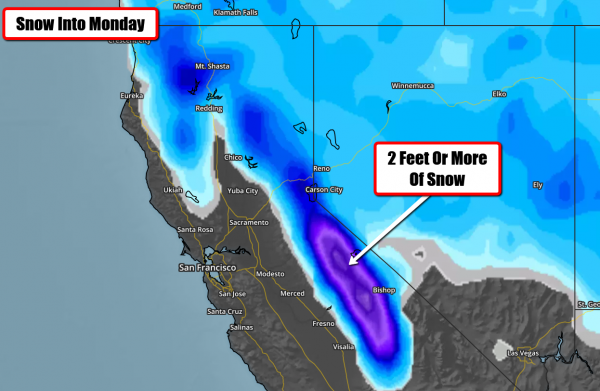 Very Heavy Mountain Snow.
While snow levels will be high during the next event, we are still expecting the potential of two or more feet of snow in parts of the Sierras.
---
Winter Storm Watches.
Winter Storm Watches have been issued for the heavy snow potential across parts of the Sierras and the Coast Range for the weekend.
---
Here Comes Round Three.
Looking even further out, it appears another atmospheric river event will try and set up toward the middle of next week, bringing even more rain and snow to California.
---
Rain Into

Next Wednesday

.
With even more rain
next Tuesday
/Wednesday, rain totals could top five and a half inches in the Bay Area through
next Wednesday
.
Summary:
Winter Storm Watches are in place across portions of the Southeast and Mid-Atlantic
Friday
and
Saturday
for snowfall accumulations of 1-4", including in Birmingham, Atlanta, Charlotte and Raleigh.
This amount of snow across these regions will be enough to gum up the roads and make travel difficult or near impossible as we head through

Friday

afternoon into

Saturday

.
The heaviest snow is expected across eastern North Carolina and into southeast Virginia, where six inches or more can be expected.
Out west, we are tracking very heavy rain as we head into the weekend with another atmospheric river event expected. Rainfall totals of 2-5" can be expected in the Bay Area, but the heaviest will be out in the mountains, where snow levels will be high and 5-10"+ of rain can be expected.
This heavy rain will likely cause a significant flooding event across the region. Already some river forecasts would have river levels reaching potentially historic levels. Facilities that have had issues in the past with situations like this will likely see issues as we head into the weekend and next week.
More heavy rain can be expected across these regions by the middle of next week.
D.J. Kayser, Meteorologist, AerisWeather
---
Reason To Keep On Going
. If you feel like you're getting crushed under a big, dirty, arctic boot - cheer up! 20s return early next week; a good chance of freezing within 2 weeks. Anywhere else this would be a meteorological death sentence. But Minnesota? Hey, things are looking up! 15-Day ECMWF numbers: WeatherBell.
---
January Thaw Brewing
. The timing and scope of (relative) warmth is still very much up in the air and open to debate, but the GFS moddel shows a Pacific flow by the third and possibly fourth week of January with big storms returning to the west coast and possibly the Gulf Coast; along with a warming trend east of the Rockies.
---
A Series of Storms Will Dump Rain and Snow All Across California
. Here's the intro to a good overview at
WXshift
: "
Californians are about to hear a phrase that's been rarely uttered during the five-year drought that's dogged the state: atmospheric river. A band of moisture extending from the central Pacific to the Golden State's shores and mountains will bring rain totals measured in feet and snow totals measured in yards. While it remains to be seen if 2017 is the year that California's drought finally becomes a thing of the past, the next week will provide at least some welcome relief. The storms are already arriving fast and furious. As of Wednesday, ski areas up and down the Sierras have seen 3 feet or more of snow. Parts of Oregon's Cascades have also been hammered by the first set of storms
..."
Animation credit
: "
An atmospheric river is sending moisture streaming from the central Pacific to California
." Credit:
Cooperative Institute for Meteorological Satellite Studies
---
Large-Scale Tornado Outbreaks Increasing in Frequency, Study Finds.
Here's a clip from
Military Technologies
: "...
In the study, published in the Dec. 16 issue of Science, the researchers used new statistical tools, including extreme value analysis—a branch of statistics dealing with deviations—to analyze observation-based meteorological estimates associated with tornado outbreaks together with National Oceanic and Atmospheric Administration datasets. The researchers estimated that the number of tornadoes in the most extreme outbreak in a five-year interval doubled over the last half-century. This means that in 1965 the worst outbreak expected over five years would have had about 40 tornadoes, while in 2015 the worst outbreak expected over five years would have had about 80 tornadoes.
.."
File photo
: Aaron Shafer.
---
Conditions That Favor More Hurricanes Also Protect U.S., Study Finds
. Here's a clip from a
New York Times story
: "...
Scientists say a long-term pattern of climate variability called the Atlantic meridional mode helps determine the level of hurricane activity. In one phase, the mode results in warmer surface water in the tropical Atlantic and less wind shear, or changes in wind speed with altitude. Both circumstances favor the formation of hurricanes. But at the same time, conditions near the coastal United States are the opposite: colder water, which provides less energy to a hurricane, and more wind shear, which tends to rip a storm apart. So although more hurricanes may form in the open ocean, as they approach land they are more likely to weaken. This protective barrier, as Dr. Kossin called it, does not exist in the Caribbean. In a period of less hurricane activity, the mode shifts and opposite conditions prevail, both in the ocean and along the coast. That means fewer hurricanes but a greater likelihood of their intensifying near the United States.
.." (Graphic credit:
NOAA
).
---
Pacific Standard
has more context and perspective on the new research
here
.
---
Periods of Greater Atlantic Hurricane Activity Linked to Weaker U.S. Landfalls
. I know, it's a bit counterintuitive, but an article at
NOAA
provides more perspective on the new research referenced above: "...
The absence of the buffer zone had an even greater impact on major hurricanes. Without it, major hurricanes were two to four times more likely to intensify and three to six times more likely to intensify rapidly. This presents major implications for forecasters, as rapid intensification near the coast is difficult to predict and shortens public warning time. The period of high Atlantic hurricane activity over the past 20 years and the accompanying development of the buffer zone may help explain the present "drought" of major hurricane landfalls in the United States. The buffer also may have come into play when Hurricane Matthew headed toward the country. While Matthew's rains were devastating for some areas, the buffer zone helped weaken the storm from a Category 4 as it advanced on Florida to a Category 1 when it officially made landfall in South Carolina. By keeping higher wind speeds at bay, the buffer zone likely helped prevent further compounding damages from Matthew
..." (Doppler radar loop: Hurricane Matthew).
---
U.S. Had More Major Floods in 2016 Than Any Year on Record
.
USA TODAY
has more details: "
2016 really was the year of the flood in the U.S.: In total, 19 separate floods swamped the nation last year, the most in one single year since records began in 1980. This is according to an analysis by Munich Re, a global reinsurance firm. The worst flood was in August in Louisiana. At least 13 people were killed and roughly 60,000 buildings were destroyed. The disaster cost $10 billion, Munich Re reported, which noted it was the worst natural catastrophe in the U.S. since Hurricane Sandy in 2012. "We had a lot of severe flash floods in heavily developed areas," said meteorologist Mark Bove of Munich Re. Other major flood disasters in 2016 included those in West Virginia in June, Houston in April and Maryland in July. "We did get very unlucky" last year, Bove said
..."
---
2016: Most North American Natural Disasters on Record
. Data from Munich Re goes back to 1980, reports
Yale Environment 360
: "
North America was hit by 160 natural disasters in 2016, more than any other year since records began in 1980, according to an analysis by the global reinsurance firm Munich Re. The disasters — which included floods, wildfires, droughts, heat waves, and coastal storms — caused an estimated $55 billion in damage. Only 54 percent of those losses were insured, Munich Re said
..."
Press release
from Munich Re is
here
. Flood photo: USGS.
---
Extreme Weather Killed Thousands and Cost Billions Across the Globe in 2016
. Here's a snippet from
The Washington Post
: "...
Historic flooding inundated parts of France and Germany in late May and early June after days of record-breaking rainfall. An upper-level low-pressure system that formed over central Europe drew warm, moist air from the Mediterranean northward, and caused days of torrential downpours and thunderstorms. A record seven inches of rain fell over the Paris region in May, much of it during the final week of the month. In central Paris, the Seine River crested more than 20 feet above normal, the highest level in 34 years. The Louvre and other museums were closed to visitors to move and protect valuable artwork from rising floodwaters. Heavy rain also hit neighboring Germany, where flash floods killed several people in Bavaria as rivers breached their banks and inundated several towns and villages
..."
Photo credit
: "
---
Insurers paid out around $50 billion for natural disaster claims last year, almost double 2015's payout of $27 billion, reinsurer Munich Re said in its annual natural catastrophe review on Wednesday.
Earthquakes in Japan and devastating floods in China - only 2 percent of whose losses were insured - were the most expensive natural catastrophes of 2016. But the year saw the second-fewest fatalities from natural disasters in 30 years.
Some $125 billion of losses were uninsured.
It was the costliest twelve months for natural catastrophe damage after three years of relatively low losses, and above the 10-year average of $45.1 billion..."
File photo of Hurricane Matthew: NOAA.
---
Tesla Begins Churning Out Battery Cells at Nevada Gigafactory. The Los Angeles Times reports: "
Batteries are crucial to the future of Tesla, best known as a car company but currently transforming itself into an ambitious alternative energy provider. On Wednesday, the company and its partner, Panasonic, announced the start of mass production of lithium-ion battery cells at Tesla's giant Nevada battery factory dubbed the Gigafactory. It's an important step for a couple of big reasons. First, huge numbers of batteries are needed to power Tesla vehicles, including the mid-market Model 3, set to begin production later this year. In 2018, the company plans to produce 500,000 vehicles, including the Model S and Model X, all packed with Tesla-made batteries.
.."
Photo credit
: "
The $5-billion Tesla Gigafactory in Sparks, Nev., began the mass production of lithium-ion battery cells on Wednesday
." (Rich Pedroncelli / Associated Press).
---
Tesla Aims To Sustain Purity of Car Batteries, But Can Any Company Be Sure?
The Washington Post
reports: "...
But the electric-vehicles revolution Musk and others envision depends on an immense escalation in the world's capacity to manufacture lithium-ion batteries, and the race for the raw materials to build those batteries is creating strains for people and the environment far from Silicon Valley, a Washington Post investigation has found. The series of Post stories found that the manufacture of lithium-ion batteries — the power source for smartphones, laptops and electric cars — is linked to child labor in cobalt mines in Congo, severe air and water pollution around graphite plants in China and complaints of mistreatment of indigenous communities near lithium deposits in South ­America
..."
Photo credit
: "
---
New Utility Program Helps Customers Go Off-Grid
.
Renewable Energy World
has the story: "...
According to GMP if more customers go off-grid the utility might be able to some retire line sections over time, reducing maintenance costs that would directly lower costs for customers. In addition, off-grid homes that otherwise would be connected to the grid will no longer contribute to costly system peaks during peak summer energy days, lowering costs further and reducing the need to build and maintain lines to meet that demand, said GMP. With net-metering challenges taking place in multiple states and energy storage prices dropping, utilities are in a race to figure out a solution to the dilemma of how to keep customers satisfied but still have enough money to pay for the grid. If a customer wants solar and won't be compensated to their satisfaction by their utility through net-metering, and if storage prices are low enough, why not pair storage with the solar and just go off-grid? For now, that doesn't make economic sense for customers but what happens when storage costs come down and utilities have cut off net-metering? Instead of waiting for the day to happen, it appears that GMP is embracing what some consider the biggest threat to utilities today – customers not using the grid.
.."
---
Where is America's Heartland? Pick Your Map. Is it geography or state of mind? The New York Times has a thought-provoking article: "...
The word captures an idea that is more expansive than the Midwest, harder to map than Appalachia, more evocative than the Great Plains. But now we are searching for its boundaries, after an election that pundits proclaimed cast the heartland against the rest of America. "It's much more a state of mind than an actual place," suggests the historian William Cronon (who teaches in Madison, Wis., which is surely the heartland, unless your heartland omits liberal college towns). "It describes a deep set of beliefs about places that somehow authentically stand for America." In that sense, the word is not purely about geography. It's a value judgment. "Who's authentically from the middle? Who's from implicitly the heart? Who represents the core?" Mr. Cronon said.
.."
---
This Is What Happens When a Bear Gets Into Your Subaru
. There's a (bad) commercial here somewhere, but the video clip highlighted at
The Washington Post
is worth a look. It will brighten your day: "
This story about a bear somehow getting stuck inside a Subaru is what we need right now. Don't worry, it ends well: The bear eventually gets out, thanks to sheriff's deputies who freed the animal in Jefferson County, Colo. Annie Bruecker, 17, just got the 2004 Subaru a few months ago and uses the car to drive to a summer job, she told ABC affiliate KMGH. But she didn't lock the doors Monday night, which apparently puts you at risk for a bear break-in
..."
Image credit
: "
Deputies from Jefferson County Sheriff's Office in Denver freed a bear that was trapped inside a small car. In the video, one deputy asked, "How did he get in? I don't see a broken window."
(Jefferson County Sheriff's Office).
---
The 5 Dirtiest Things You Touch Every Day
. Turns out the toilet seat is the least of your concerns, according to
TIME
: "...
In the kitchen, your trusty sink sponge is health enemy number one. In fact, that sponge is likely the dirtiest item in your home, Gerba says. "It's probably home to hundreds of millions of bacteria," he says. NSF agrees. Its researchers found that 75% of home dish sponges and rags contained Coliform. You want a kitchen cleaning tool you can throw into the dishwasher to disinfect—like a brush, Gerba says. The same goes for cutting boards. "Most people just rinse or wipe them off," he says. But only a run through the dishwasher—or a good scrub with dish soap—will get it clean. When it comes to the items you touch most, Gerba says your cell phone is a big bacteria haven. Studies have found that one in six phones is contaminated with fecal matter, even though a simple swab with a disinfectant wipe is enough to clear away that icky residue
..."
---
---
---
TODAY
: Mix of clouds and sun, not quite as Nanook. Winds: SW 5-10. High: 7
FRIDAY NIGHT: Partly cloudy. Low: -5
SATURDAY
: Plenty of sun, feels like -20F. Winds: NW 8-13. High: 6
SUNDAY
: Numbing start, then breezy with increasing clouds. Winds: S 10-15. Wake-up: -8. High: 17
MONDAY
: Few flurries, temps. near average! Winds: E 7-12. Wake-up: 15. High: 24
TUESDAY
: Period of snow, couple inches? Winds: NW 10-15. Wake-up: 18. High: 27
WEDNESDAY
: Dry start, more light snow PM hours. Winds: SE 8-13. Wake-up: 8. High: 16
THURSDAY
: Mostly cloudy, cold wind returns. Wake-up: 5. High: 10 (falling)
---
2016 confirmed as the warmest year on record, warmer than 2015 by close to 0.2°C
Global temperatures reached a peak in February 2016 around 1.5°C higher than at the start of the Industrial Revolution
Extreme conditions impacting several regions across the Earth
The first global analysis of the whole of 2016 has confirmed last year as the warmest on record and saw the planet near a 1.5°C warming, according to the Copernicus Climate Change Service (C3S).
The latest figures from C3S, part of the EU's Copernicus earth observation programme, show that 2016's global temperature exceeded 14.8°C, and was around 1.3°C higher than typical for the middle years of the 18th century. 2016 was close to 0.2°C warmer than 2015, which was previously the warmest year on record
..."
Graphic credit
: "
Annual global air temperature at a height of two metres (left axis) and estimated change from the beginning of the industrial era (right axis). Sources: Copernicus Climate Change Service, ECMWF, for data from 1979; Met Office Hadley Centre, NASA and NOAA for blended data prior to 1979." (Credit: ECMWF, Copernicus Climate Change Service)
---
Various studies have debunked the idea of a pause, or hiatus, in global warming—the contention that global surface temperatures stopped rising during the first decade of this century. The arguments for and against "the pause" were somewhat muted until June 2015, when scientists at the National Oceanic and Atmospheric Administration published a paper in Science saying that it had slightly revised the sea surface temperatures it had been citing for the 1900s. The measurement methods, based on sensors in the engine intake ports of ships, had been flawed, NOAA said. The revised methodology also meant that sea surface temperatures during the 2000s had been slightly higher than reported. NOAA adjusted both records, which led to a conclusion that global surface temperatures during the 2000s were indeed higher than they had been in previous decades. No hiatus
..." (Image: NASA ISS).
---
Beyond 2016: Year in Review
. More details on last year's warmth from
NOAA
.
---
China Aims To Spend at Least $360 Billion on Renewable Energy by 2020
. Here's an excerpt from
The New York Times
: "
China intends to spend more than $360 billion through 2020 on renewable power sources like solar and wind, the government's energy agency said on Thursday. The country's National Energy Administration laid out a plan to dominate one of the world's fastest-growing industries, just at a time when the United States is set to take the opposite tack as Donald J. Trump, a climate-change doubter, prepares to assume the presidency. The agency said in a statement that China would create more than 13 million jobs in the renewable energy sector by 2020, curb the growth of greenhouse gasses that contribute to global warming and reduce the amount of soot that in recent days has blanketed Beijing and other Chinese cities in a noxious cloud of smog.
..."
Photo credit: I snapped this picture from our room at the St. Regis in Beijing during a severe smog event during the first week of December, 2016.
---
Signs of Climate Change Hit Great Lakes
. NCPR,
North Country Public Radio
, has the story: "...
The Great Lakes Integrated Sciences and Assessments Center in Michigan specializes in presenting climate change information specific to this area. Researcher Laura Briley said one sure sign of regional climate change can be found in the water. "The lakes themselves, are actually changing," she said. "Water temperatures have been increasing and in some cases increasing at a faster rate than air temperatures." Briley said other signs of climate change in the Great Lakes basin include severe storms, increased precipitation and reduced ice cover on the lakes. "In the last 30 or so years, we've seen a large increase in extreme precipitation events ... so more risk of flooding and runoff," she said
..."
Photo credit
: "
Lake Erie at Buffalo, NY.
" Photo: Angelica Morrison.
---
New Technique Predicts Frequency of Heavy Precipitation with Global Warming
. Here's an excerpt from
phys.org
: "...
Now MIT scientists have found that such extreme precipitation events in California should become more frequent as the Earth's climate warms over this century. The researchers developed a new technique that preicts the frequency of local, extreme rainfall events by identifying telltale large-scale patterns in atmospheric data. For California, they calculated that, if the world's average temperatures rise by 4 degrees Celsius by the year 2100, the state will experience three more extreme precipitation events than the current average, per year
..." (File photo: Munich Re).
---
Paris Climate Deal to Ignite a $90 Trillion Energy Revolution
. Here are a couple of excepts from an Op-Ed at The Telegraph: "...
The fossil fuel industry has taken a very cavalier bet that China, India and the developing world will continue to block any serious effort to curb greenhouse emissions, and that there is, in any case, no viable alternative to oil, gas or coal for decades to come...The old energy order is living on borrowed time. You can, in a sense, compare what is happening to the decline of Britain's canals in the mid-19th century when railways burst onto the scene and drove down cargo tolls, destroying the business model. Technology takes no prisoners. Nor does politics. World leaders have repeatedly stated that they would defend the line of a 'two degree planet', and now they are taking the concrete steps to do so. Fossil investors have been warned
..."
---
Companies Should Report Possible Climate Costs, Say Global Executives
. Here's an excerpt from
The Wall Street Journal
: "
Companies should publish an assessment of the losses they could suffer through climate change as part of their routine financial statements, according to a panel of financial and business executives chaired by Michael Bloomberg. The Task Force on Climate-related Financial Disclosures, headed by the former New York City Mayor, in a report Wednesday said that greenhouse gas emissions pose a serious risk to the global economy and investors need better information to assess which firms are most vulnerable to shifting weather patterns and related threats. "What gets measured better gets managed better," Mr. Bloomberg said in a letter to Mark Carney, governor of the Bank of England and chairman of the Financial Stability Board, a group of global regulators, which commissioned the 73-page report
..."
---
The Republicans Who Want Trump to Fight Climate Change
. Here's an excerpt from
The Atlantic
: "...
Like other members of the eco-right, Inglis believes that efficient markets are the ultimate problem solver, and he has a general skepticism about all but the most basic of regulations. "The essence of [the eco-right] is all about internalizing negative externalities," Inglis says, referencing the hidden expenses of carbon's seepage into the atmosphere. He says that polluters are "socializing their soot and climate costs." By making them pay and stripping out all energy subsidies, the thinking goes, firms will shift their business models accordingly, weeding out wasteful fuels, making the Paris Agreement and Obama's Clean Power Plan superfluous. "Our view of the Clean Power Plan is that it's precisely the worst way to deal with climate change," Inglis explains. UN agreements and regulatory pushes, Inglis argues, represent the kind of policies which keep conservatives out of the conversation on climate, because they are both too complicated and too confrontational. "I think the path in is mostly through the business community, where unlikely partners could really step forward and say, 'There's a free enterprise solution to this. Don't give us regulations.
.." (Photo credit above:
Daniel Munoz / Reuters).
---
Louisiana History Washes Away as Sea Levels Rise, Land Sinks
.
NPR
has the story: "
Louisiana is losing its coast at a rapid rate — because of rising sea levels, development and sinking marshland. Officials are trying to rebuild those marshes and the wetlands, but much of the coast can't be saved. This makes Louisiana's history an unwitting victim. As land disappears and the water creeps inland, ancient archaeology sites are washing away, too
..."
Photo credit
: "
Louisiana is losing its coast faster than any place in the world. As land disappears and the water creeps inland, ancient archaeology sites are washing away. The roots of a dead oak tree at the edge of an ancient Native American mound, are all that hold the land together
.
" Tegan Wendland/WWNO.
---
New Study Confirms Faster Rate of Global Warming. Here's an excerpt from Dr. John Abraham at The Guardian: "...
This paper is another reminder why it is so important to invest in the temperature measurements that are needed to create long-term climate records. We really need uninterrupted measurements that span many years/decades if we want to truly understand the Earth's changing climate. Even though the costs of making these measurements are very small compared to what we spend on other less important activities, I am concerned that the new US administration will decide to pull the plug on these projects. If that happens, we will be flying blind. Finally, and for those who read my posts regularly, I am sounding like a broken record. Global warming is happening, it never stopped, it never paused, and the models have gotten it right.
.."