60 F. high temperature yesterday in St. Cloud.
50 F. average high on April 4.
42 F. high temperature on April 4, 2016.
April 5, 1999
: Heavy snow falls over the Arrowhead, with 11 inches at Two Harbors.
April 5, 1929
: A tornado cuts a path from Lake Minnetonka through North Minneapolis and leaves six dead.
This Year Don't Rely Just on Emergency Sirens

It's 2017, and still no flying cars. Most of us are walking around with little supercomputers in our pockets & purses. And smartphone apps are an effective way to get not only GPS-specific weather, but time-sensitive warnings. My favorites are Aeris Pulse (full disclosure: my company cooked this one up) and RadarScope.
Research confirms the more sources of weather information, the greater the odds you'll get a warning in time to take evasive action. Radio, TV, NOAA Weather Radio and sirens are all part of a well-rounded weather diet.
Sirens are cold war technology, designed to be heard outdoors only. If you only rely on sirens to take action you're going to get caught with your Doppler down.
April brings greening lawns, budding flowers and trees - and more frequent severe outbreaks, but the atmosphere overhead will be too cool and stable for hail or tornadoes this week.
Tornadoes strafe the Southeast today; a soaking rain triggers flooding in the Northeast tomorrow. Here? Dry into Saturday, when temperatures may hit 70F. T-storms Sunday could be strong to severe. Here we go!
---
The United States of Extremes. Today's storm spawns tornado-producing supercell thunderstorms across the Southeast, while a shield of heavy rain changes to heavy wet snow across the Great Lakes and Ohio Valley. Meanwhile (no surprise) another sloppy front invades the Pacific Northwest. A super-sized severe weather spring is brewing - just a continuation of trends present in the pattern since January. 84-hour NAM Future Radar: NOAA and Tropicaltidbits.com.
---
April Lake Effect. What little ice formed on the Great Lakes this past "winter" is pretty much gone; a moist fetch off the water enhancing snowfall rates downwind. Plowable snow amounts are possible over Lower Michigan, maybe a couple inches for the Ohio Valley, where much of the slush will melt on contact.
---
2017 Off to Record-Breaking Start for Tornadoes and Severe Weather. Will It Continue?
At the rate we're going 2017 may set more tornado records. Here's an excerpt from
U.S. Tornadoes
: "
2017 has been off to as fast a start to the severe weather season as any in the modern record. Through the beginning of April, it's running neck-and-neck with 2008 for first place. There have been outbreaks in each month of the year, and roughly 360 to 400 tornadoes so far. That's more than twice normal to date, and we've barely even started to wander through the beginning of peak severe weather season, which runs April-June. The country is also in the midst of a two-week long onslaught of severe storms, with more on the way over the next few days
..."
---
Praedictix Briefing
: Issued Tuesday, April 4
th
, 2017
An active severe weather day is expected from the Ohio Valley to the Southeast

on Wednesday

. A Moderate Risk of severe weather is in place for

tomorrow

across parts of the Southeast, including metro Atlanta.
The main risks across this area include tornadoes (some of which could be strong and long-tracked), damaging winds and large hail. These conditions will also be possible across the Enhanced Risk area, which stretches as far north as southern Indiana and Ohio.
---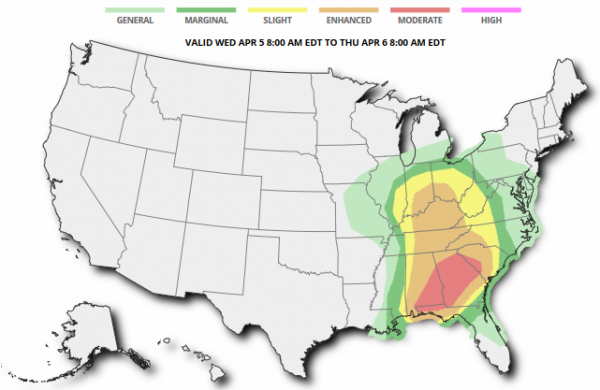 Moderate Risk Wednesday
. A Moderate Risk of severe weather is in place from the Storm Prediction Center for Wednesday across portions of the Southeast, including parts of Florida, Alabama, Georgia and South Carolina. This includes the cities of Atlanta, Columbus and Macon (GA), as well as Montgomery (AL). The threat for severe weather will extend northward into the Ohio Valley
tomorrow
as well, with an Enhanced Risk of severe weather as far north as southern Indiana and Ohio. The Enhanced Risk includes cities like Charlotte (NC), Nashville (TN), Louisville (KY) and Cincinnati (OH). We are watching the likelihood of a severe weather outbreak
Wednesday
and
Wednesday
Night across the region, including the potential of tornadoes (some strong and long-lived, especially in the Moderate Risk area), large hail and damaging winds.
---
Strong Probability Of Severe Weather.
As a system moves into the central U.S.
Wednesday
, confidence is increasing on the potential of severe weather from the Southeast to the Ohio Valley. The Storm Prediction Center has a 45% probability of severe weather from the Florida panhandle northeast into western South Carolina
tomorrow
, covering the Moderate Risk area. There is also a "hatched" area stretching from the Moderate Risk area to the Ohio Valley. This hatched area indicates at least a 10% probability of significant severe weather within 25 miles of a point, which includes the threats of strong, long-lived tornadoes, very large hail, and hurricane-force wind gusts. Map credit: NOAA SPC.
---
Storm Timing
. In areas of the Southeast, it could be a long day
on Wednesday
, with rounds of storms possible throughout the day, starting as early as daybreak. The first round in the morning will have the potential to include tornadoes and large hail before some areas receive a little break. That will only allow the environment some time to recover, and more storms are expected to develop across parts of Alabama and Georgia by the afternoon. It appears these storms would have the best potential for significant severe weather, including long-tracked tornadoes. Further north, toward Tennessee and Kentucky, storms will start to form during the afternoon hours. Initial storms that form will have the potential of large hail and a few tornadoes (some of which could be strong) before merging into lines of storms which will be more supportive of damaging winds. Map credit: AerisWeather.
---
Tornado Potential Index.
Our internal algorithms show the potential of rotating storms that could produce tornadoes (potentially some strong) across the Southeast as we head through Wednesday, with some of the highest values pinpointed across the Moderate Risk area during the afternoon hours. It also indicates the risk of a few tornadoes as far north as the Ohio Valley during the afternoon and evening hours as well. Map credit: AerisWeather.
Summary
. A severe weather outbreak is expected
Wednesday
across parts of the Southeast north into the Ohio Valley, with tornadoes (some potentially strong and long-tracked), large hail and damaging winds possible. A Moderate Risk of severe weather is in place for portions of Florida, Alabama, Georgia and South Carolina Wednesday, including the cities of Atlanta, Columbus and Macon (GA), as well as Montgomery (AL). It is over this area that has the highest potential of seeing strong tornadoes, particularly during the afternoon and evening hours. Today would be the day to make sure facilities across the severe threat area are up to date on severe weather procedures as
tomorrow
is likely to be active.
D.J. Kayser, Meteorologist, Praedictix
---
Ripe for Supercellular T-storms.
Watch the isolated cells out ahead of the main squall line later today. These are the storm most likely to start spinning in response to very strong wind shear. Conditions are ripe for a major outbreak of tornadoes, and city centers from Montgomery and Auburn to Atlanta, Macon and Columbia may see severe weather and violent winds. 3 KM NAM: Tropicaltidbits.com.
---
---
How 148 Tornadoes In One Day in 1974 Changed Emergency Preparedness
.
Smithsonian Magazine
provides perspective: "...
But two important things happened because of the 1974 outbreak, research meteorologist Howard Brooks told Galvin. "First, the National Weather Service adopted the Fujita Scale. And second, support and money for tornado-intercept operations greatly increased."
The Fujita scale created a standard language for the scientific community to talk about tornadoes, Galvin writes. Intercept operations, which send scientists out to actually chase tornadoes, have allowed them to observe what was happening firsthand, improving future warnings.
These innovations, combined with the money and political will to update detection gear, mean that the National Weather Service now has more weather stations and better forecasting technology, he writes. Research, more weather stations, and Doppler radar combined have increased the average tornado warning time from "about zero," as one meteorologist put it, to 12 to 14 minutes. "It doesn't seem like a lot," he told Galvin, "but when you need to take shelter every minute counts..." (Map credit: NOAA).
---
Xenia (Ohio) Tornado Anniversary
. The Super Outbreak of April 3, 1974 was staggering in scope and intensity; one of the reasons I ultimately became a meteorologist.
The Xenia Gazette
remembers that terrible day: "
The tornado injured 1,150 and destroyed approximately 1,400 buildings — about half of those in Xenia. Nine schools, nine churches and almost 180 businesses were destroyed in the F5 tornado, which claimed more than 30 lives. The twister was part of the the 1974 Super Outbreak, which was the second-largest tornado outbreak on record for a single 24-hour period, just behind the 2011 Super Outbreak. It was also the most violent tornado outbreak ever recorded, with 30 F4/F5 tornadoes confirmed. From April 3 to April 4, 1974, there were 148 tornadoes confirmed in 13 U.S. states and Ontario, Canada. Tornadoes struck Illinois, Indiana, Michigan, Ohio, Kentucky, Tennessee, Alabama, Mississippi, Georgia, North Carolina, Virginia, West Virginia and New York. The entire outbreak caused more than $600 million (in 1974 dollars) in damage in the U.S. alone, and extensively damaged approximately 900 square miles along a total combined path length of 2,600 miles according to online reports. At one point, as many as 15 separate tornadoes were ongoing at the same time
..."
Photo credit: "Monday was the 43rd anniversary of the 1974 Xenia tornado. The days and months after April 3, 1974, tornado were filled with many scenes like the ones you see here. The tornado injured 1,150 and destroyed some 1,400 buildings — about half of those in Xenia. Nine schools, nine churches and almost 180 businesses were destroyed in the F5 tornado."
---
---
70-ish This Weekend
. Saturday looks like the nicer, drier, sunnier day with a good shot at 70F if the sun stays out most of the afternoon. ECMWF guidance hints at a few showers and T-storms Sunday, marking the leading edge of a cooler front early next week. MSP numbers: WeatherBell.
---
Celebrating the World's First Meteorological Satellite: TIROS-1
.
NOAA NESDIS
has a good write-up on the first weather satellite, an event that changed our capabilities - and expectations here on the ground: "...
TIROS-1 orbited 450 miles above Earth and communicated with two command and data acquisition stations. When the satellite was in range of a station and the data was read out, the images (up to 32 could be recorded for playback) were recorded on 35-mm film for making prints. Although the satellite operated for only 78 days, TIROS-1 sent back 19,389 usable pictures, proving the worth of weather observing satellites to the world and opening the door for the weather systems of the future. The first image from the satellite was a fuzzy picture of thick bands and clusters of clouds over the United States. An image captured a few days later revealed a typhoon about a 1,000 miles east of Australia
..."
Image credit: "One of the first images from the TIROS-1 satellite, April 1, 1960." Credit: NASA
---
Tropical Cyclone Report on Hurricane Matthew
. Check out the 96 page (PDF) from
NOAA
on last year's biggest hurricane to threaten the southeastern USA. (Hurricane Matthew file: University of Wisconsin SSEC).
---
Senate Passes Comprehensive Bipartisan Bill to Improve Weather Forecasting
. An encouraging step in the right direction; details via Jason Samenow at
Capital Weather Gang
: "
After stumbling blocks and delays, sweeping bipartisan legislation to improve weather forecasting has passed the Senate. The 65-page bill, the Weather Research and Forecasting Innovation Act of 2017, H.R. 353, contains four sections that support research and programs to improve weather forecasting and its communication on short and long time scales. Containing scores of provisions, the bill would require the National Oceanic and Atmospheric Administration to, for example:
Establish a program to improve tornado warnings.
Protect the Hurricane Forecast Improvement Program, whose funding was previously slashed.
Develop a formal plan for weather research.
Develop an annual report on the state of its weather models..."
---
Global Temperature Records
.
Coolwx.com
still has the best site (in my humble opinion) when it comes to tracking U.S. and global temperatures that are close to record territory.
---
Real-Time Lightning.
Check out the free display for not only North America, but much of the planet, courtesy of
Blitzortung.org
, which uses triangulation from ground-based lightning sensors. Pretty cool.
---
Current Temperatures
. This is one of the more aesthetically-pleasing maps I've found on the web displaying current temperatures around the Lower 48, courtesy of the
Oklahoma Mesonet
. Refresh your browser to get the latest observations.
---
---
More Water Flowing in California This Year.
Details via
Climate Central
: "...
For only the second time this decade, the last being in 2011, the snowpack at the start of April is above normal, providing a respite from a drought which had been especially bad in California. In the Sierra Nevada, the snowpack was 164 percent of normal at the start of the month. The snow water equivalent, or the amount of liquid water locked away in the snow, was about 46 inches. This year's barrage of western storms and the increase in meltwater has already sped up runoff into California's reservoirs, the majority of which are above their historical averages, although not by much. Only the San Luis Reservoir in central California is within a few percent of capacity, but even so, that reservoir is twice as high as it was at this time last year
..."
Graphic credit
: "
More water is flowing this year in California from frequent storms and melting snowpack
." Credit:
Climate Central
---
Wealth Didn't Matter. Pollution From a Coal-Fired Plant, Carried Miles by Wind, Still Hurt Their Babies
. One of many reasons why we probably don't want to go back to a "coal-first" energy diet. Here's an excerpt from
The Washington Post
: "
Air pollution from power plants has wanderlust. It never stays still. It rides the wind, drifting far from its source, visiting homes miles away with potentially harmful effects. New research released Monday documents the impact that pollution from a coal-fired plant in Pennsylvania had on four wealthy New Jersey counties as far as 30 miles downwind.

Women in those counties had a greater risk of having babies of low or very low birthweight — less than 5½ pounds — than did women in similarly affluent areas.

It didn't matter that the mothers there had advantages that low-income mothers don't: money and access to private health care. Their babies still appeared to suffer from the effects of air pollution, specifically wind-borne sulfur emissions. The study authors say stronger federal regulation of emissions from coal-fired plants is needed to safeguard human health
..."
Photo credit: "
---
The analysis found that PJM could remain reliable "with unprecedented levels of wind and solar resources" as long as they are mixed with other types of power generation, like natural gas or nuclear, that can balance their reliability weaknesses. The study found a marked decrease in reliability for generation portfolios heaviest in wind and solar, suggesting that there are limits — probably around 20 percent of operational capacity — to how much of those types of intermittent renewables could be integrated into the grid without sacrificing reliability. The analysis did not try to measure the effects of potential advances in battery storage or distributed energy..." (Photo credit: Wind on the Wires).
---
Though Cassidy remains an advisor at Google, he has quietly started a new company, Apollo Fusion. On Friday, a website for the firm, which previously consisted only of a definition of the phrase "nuclear fusion," was updated to include a vision statement that gives a tantalizing peek into Cassidy's plans. "We're working on revolutionary hybrid reactor technology with fusion power to serve safe, clean, and affordable electricity to everyone," reads the site. "Apollo Fusion power plants are designed for zero-consequence outcomes to loss of cooling or loss of control scenarios and they cannot melt down
..."
---
---
The Next Million Jobs Will Come From Startups Across America, But Not Without Smarter Public Policy.
Here's an excerpt of a post at
Forbes
that caught my eye: "...
The report argues that overly strict rules governing crowdfunding sometimes limit the ability of startups to raise funds on the local level and that changing tax policy to support innovation will make it easier for companies to pour money back into research and development. And improving access to overseas markets and limiting trade barriers will open up new opportunities for startups to grow their businesses and scale. It also suggests increasing investment in entrepreneurial and STEM-related education similar to the curriculum at the Chicago Tech Academy

and a growing number of schools across America.

The Technet-published report says Congress

needs to tackle immigration reform
to make it "easier for immigrant entrepreneurs to build new companies in the United States..."
---
This Is How The Next World War Starts. Here's an excerpt of a harrowing story at The Huffington Post: "...
With these issues in mind, I traveled to Germany this winter to talk with U.S. Air Force General Tod D. Wolters, who commands American and NATO air operations. We sat in his headquarters at Ramstein Air Base, a gleaming, modern complex where officers in the uniforms of various NATO nations bustle efficiently through polished corridors. "The degree of hair-triggeredness is a concern," said Wolters, a former fighter pilot who encountered Soviet bloc pilots during the Cold War. "The possibility of an intercept gone wrong," he added, is "on my mind 24/7/365." Admiral James G. Stavridis, the commander of NATO from 2009 to 2013, is more blunt. The potential for miscalculation "is probably higher than at any other point since the end of the Cold War," he told me. "We are now at maximum danger.
.."
Illustrations by Cam Floyd
.
Animation by Pablo Espinosa.
---
---
TODAY: More clouds, late shower or sprinkle possible. Winds: N 7-12. High: 56
WEDNESDAY NIGHT: Partial clearing, chilly. Low: 34
THURSDAY: Partly sunny and breezy. Winds: N 10-15. High: 53
FRIDAY: Mild sun. Leave work early. Winds: SE 7-12. Wake-up: 36. High: near 60
SATURDAY
: Lukewarm sun. Evacuate outdoors. Winds: S 10-20. Wake-up: 45. High: near 70
SUNDAY
: T-storms may turn severe. Winds: SW 10-15. Wake-up: 53. High: 72
MONDAY: Unsettled, few showers linger. Winds: NW 10-15. Wake-up: 50. High: 60
TUESDAY: Mostly cloudy, cooler breeze. Winds: NW 10-15. Wake-up: 39. High: 49
---
Climate Stories...
Then and Now: How Glaciers Around the World Are Melting.
Here's an excerpt from
The Washington Post
: "
Over the past decade, scientists and photographers keep returning to the world's glaciers, watching them shrink with each visit. Now they want others to see how a warming planet is melting masses of ice in a series of before-and-after photos. In the Geological Society of America's GSA Today journal , a group of ice researchers and a photographer-filmmaker published pictures showing how much five of the world's glaciers have thinned. "There is something fundamentally compelling about the approach they take. For all our emphasis on models and math, seeing is still believing," said University of Colorado ice scientist Ted Scambos, who wasn't part of the team.
.."
Photo credit
: " .
---
---
True Conservatives Should Worry About Climate Change
. Here's an excerpt of an Op-Ed at
The Charlotte Observer
: "...
To follow Mr. Loris' recommendations will push the concentration of carbon dioxide above 400 ppm. We are now aware that these choices have consequences for us, for our children and for generations to come. The moral choice has been different over the last 30 years than it was for our grandparents. Mr. Loris cannot simply argue for a limited set of jobs helped by fossil fuels without also accepting the burden we now understand – such as rising sea levels, abnormal precipitation leading to droughts in some areas and flooding or mudslides in others. It is not a conservative value to ignore our impacts on those around us or on the economic conditions we leave for our kids. Thankfully, there are conservative voices speaking out on this issue. Fifteen House Republicans have joined the bipartisan House Climate Solutions Caucus to hold meaningful discussions on what can be done
..."
Photo credit
: "
Matthew Brown
AP.
---
The Climate Could Hit a State Unseen in 50 Million Years. Climate Central has details: "...
Scientists have been able to track the historic changes in carbon dioxide through a number of methods, from air pockets in Antarctic ice cores to sludge on the deep sea floor. The new research compiles 1,500 of these carbon dioxide estimates to create a view that extends 420 million years.

The carbon dioxide levels in the atmosphere today are ones that likely haven't been reached in 3 million years. But if human activities keep committing carbon dioxide to the atmosphere at current rates, scientists will have to look a lot deeper into the past for a similar period. The closest analog to the mid-century atmosphere we're creating would be a period roughly 50 million years ago known as the Eocene, a period when the world was completely different than the present due to extreme heat and oceans that covered a wide swath of currently dry land
..."
Graphic credit
: "
Atmospheric carbon dioxide levels could reach a level unseen in 50 million years by the 2050s. If they continue rising into the 2200s, they'll create a climate that likely has no precedent in at least 420 million years." Credit: Foster, et al., 2017.
---
We Need to Talk About "Ecoanxiety". Climate Change is Causing PTSD, Anxiety and Depression on a Mass Scale
. So says an article at
Quartz
, and they have new research to back up their claims: "
Depression, anxiety, grief, despair, stress—even suicide: The damage of unfolding climate change isn't only counted in water shortages and wildfires, it's likely eroding mental health on a mass scale, too, reports the American Psychological Association, the preeminent organization of American mental health professionals. Direct, acute experience with a changing climate—the trauma of losing a home or a loved one to a flood or hurricane, for example—can bring mental health consequences that are sudden and severe. After Hurricane Katrina, for example, suicide and suicidal ideation among residents of areas affected by the disaster more than doubled according to a paper led by Harvard Medical School, while one in six met the criteria for PTSD, according to a Columbia University-led paper. Elevated PTSD levels have also been found among people who live through wildfires and extreme storms, sometimes lasting several years
..."
Photo credit
: "
What we need to talk about when we talk about climate change
."
(AP Photo/Charlie Riedel)
---
Mayor Will Lead on Climate Change for Political Gain, Says Ex-NYC Mayor
. Here's an excerpt from
Reuters
: "
Mayors globally are increasingly adopting measures to slash greenhouse gas emissions because it makes them popular with voters, former New York mayor Michael Bloomberg said on Monday.
Days after U.S. President Donald Trump dismantled countrywide climate-change policies, Bloomberg said mayors are going beyond national government regulations to reduce greenhouse gases blamed for global warming for political gain.
"This is not ethics, this is politics. That's the real world," he told the Sustainable Energy for All Forum in New York.
"Elected officials want publicity so they can be re-elected and keep their jobs," he said at the three-day event. "It's become fashionable..."
Photo credit: "
Former New York Mayor and U.N. Special Envoy for Cities and Climate Change Michael Bloomberg speaks during the C40 Cities Women4Climate event in New York City, U.S., March 15, 2017
."
REUTERS/Brendan McDermid.
---
What Financial Markets Can Teach Us About Managing Climate Risks.
The New York Times
reports.
---
The End of Winter May Signal Bigger Changes Ahead for Earth's Climate
. An Op-Ed at
USA TODAY
captures the sense of disbelief that facts, data and evidence have become optional and politicized: "...
We have no trouble believing that dinosaurs lived 150 million years ago, but who can even count back that far? We take it on faith that the continents drift around on tectonic plates like ice floes in a slush pond, but the ground feels pretty stable to me. Even though none of us can independently verify any of these things, most of us accept them as facts, not assertions. We recognize them as the settled conclusions of qualified experts who have studied the evidence carefully and ruled out every competing hypothesis. That's what science does; it extends our reach and allows us to make connections, connect dots, that we couldn't possibly link on our own. If we accepted only the evidence of our senses, we'd still think that the Earth was flat and the sun and stars revolved around us. When it comes to climate change, however, the Earth is still flat. Scientific facts have somehow become opinions, and carefully researched conclusions are written off as theories or even hoaxes. Climate scientists went to the same schools, earned the same degrees, and follow the same protocols as experts we wouldn't begin to question on other matters, but millions of us find it easy to say, "I don't think so
...."
Image credit
: Jeff Williams, NASA.
---
Climate Change Doesn't Care Who You Voted For
. Here's a clip from
Teen Vogue
. What, you don't read Teen Vogue? "...
Climate change denial has been able to flourish because it papers over a painful reality. It's hard to reconcile the scope of danger with the sense that there is nothing we can do about it, but political inefficacy is just another myth in need of rejection. We must come together to insist on the reduction of greenhouse-gas emissions via federal effort. Each passing day in this DEFCON 1 political climate, it seems less and less possible to bridge the party divide, but we can all be united by the need for clean air, fresh water, and a better world for our children. As it stands, Trump's climate change policy puts all of those things at risk, and unfortunately floods and droughts don't give a crap whom you voted for."
---
The Case for Climate Risk Investing in Trump Era.
Here's a clip from
The Wall Street Journal
: "...
According to the Global Sustainable Investment Alliance, climate change and carbon emissions was "the most significant overall environmental factor" for socially-minded investors in the U.S., drawing allocation of $2.15 trillion in institutional investor assets in the year ended Dec. 31, 2015. Shareholder proposals focusing on the climate risk are also getting more support, even if none got majority approval over board opposition so far. According to Proxy Monitor, an arm of the Manhattan Institute's Center for Legal Policy that tracks resolutions filed with Fortune 250 companies, 23 of the total 58 environmental-related proposals as of the end of June, 2016, got 26% of the vote, compared with 16% support in 2015 and 14% in the 2006-2015 period
..."