73 F
. maximum temperature yesterday in St. Cloud.
79 F
. average high on June 19.
90 F
. high on June 19, 2016.
June 20, 1992
: Abnormally cold conditions occur across the north. Temperatures drop to 26 at Embarrass, MN and Hayward, WI, but the cold spot is 24 at Brimson, MN.
Why We Need a Cutting Edge Weather Service
The weather. It flavors our moods, complicates our commutes, dictates how we dress, impacts the food on our tables & makes planning anything outdoors the rough equivalent of a weekend in Las Vegas.
As much as
half a TRILLION dollars
of the U.S. economy is impacted by swings in temperature and moisture. Weather causes 32 percent of all airline flight delays. 2017 has unleashed 5 weather and climate disasters across America, according to NOAA NCEI.
Congress just passed the Weather Research and Forecasting Innovation Act of 2017, the first major weather legislation since the early 90s. We need to stay on the cutting edge of meteorological research and technology. Money (and lives) are at stake.
Frequent puffs of Canadian air keep Minnesota relatively comfortable into next week; highs mostly in the 70s. While metro Phoenix bakes at 120F this afternoon. How do people live like that?
I still see 80s and T-storms in time for the 4th - more lake-worthy weather for the big holiday. In the meantime a tropical system will soak the Gulf Coast with flooding rains. It's that time of year.
---
High Bust Potential
. NOAA's 3 km NAM model brings a full-blown hurricane into Houston within 60 hours, by late Wednesday. We're not buying this solution (yet) but know that there is still an outside possibility of (Cindy) reaching hurricane strength within a couple of days. Models do a fairly good job predicting tropical tracks, but intensity is a much bigger challenge. Water temperatures in the Gulf of Mexico are warmer than average, but there is considerable wind shear, which may prevent rapid strengthening.
* The ECMWF (European) model, which often does a better job with tropical systems, brings a strong tropical depression or weak tropical storm into Galveston area Wednesday night or Thursday morning.
---
Praedictix Severe Weather Briefing
.
Issued June 19, 2017
.
* Tropical Storm potential in the Gulf of Mexico over the next 72 hours. "Cindy" may form as early as
tonight
or early
Tuesday
.
* "Atmospheric River" of tropical moisture being pulled northward toward the Gulf Coast.
* This will be a persistent, slow-moving, long-duration rainfall event capable of major inland flooding into at least
Thursday
.
* It bears repeating: the primary threat is not high winds or even storm surge flooding, but torrential/prolonged inland rains capable of urban and river/stream flooding.
* Metro areas from
Pensacola
and
Mobile
to
Gulfport
,
New Orleans
and
Galveston/Houston
should pay close attention - facilities that have experienced flooding in the past may be disrupted.
---
A Plume of Deep Moisture
. Americans are (rightfully) fixated on hurricanes, but on many occasions tropical storms can be just as damaging, especially ones that move slowly, as this system is forecast to do in the coming days. Slow forward motion will prolong heavy rains, increasing the risk of runoff and flash flooding. Image: NOAA and Aeris AMP.
---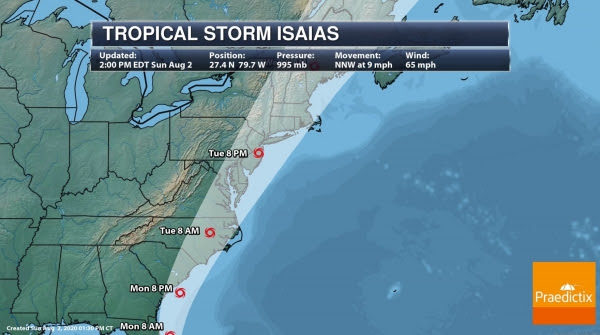 Official NOAA NHC Track
. Here is the projected track from the National Hurricane Center, showing a possible landfall
Wednesday
night between Galveston and Lafayette, Louisiana. Storm surge damage may be minor to moderate, although flood-prone parishes of coastal Louisiana will experience major problems over the next 72 hours. The primary threat is inland flooding from persistent rains. Map: NOAA NHC.
---
Timing Tropical Storm-Force Winds
. Here is rough timing from NOAA, showing tropical storm (39 mph+) winds reaching New Orleans by
Tuesday
morning at
8 am
, the Houston area by
8 pm
Tuesday
. There may be minor power outages, but right now this system is not expected to reach hurricane intensity.
---
Extreme Rains
. June tropical storms are often prolific rain-makers, and this system will be no exception. Models print out as much as 10" from near Houston and Galveston to New Orleans, Gulfport and Mobile. That's 2-3 months worth of rain falling in 3-4 days. The result will be urban flooding, and many streams and rivers leaving their banks. Image credit: Tropicaltidbits.com.
Summary
: Sustained winds are 40 mph, right at the threshold for a tropical storm. There's a good chance Tropical Storm Cindy will be named later
tonight
, with impacts increasing along the Gulf Coast during the day
Tuesday
. Repeated bands of heavy showers and T-storms sweeping in off the Gulf of Mexico, an "atmospheric river" type event, will focus over 10" of rain on some communities; possibly more than that. The result will be minor to moderate storm surge flooding for coastal communities, but potentially major inland flooding in the days to come. Stay alert, more updates
on Tuesday
.
Paul Douglas, Senior Meteorologist. Praedictix
---
Copious Rains
. NOAA's GFS model print out as much as 5-10" of rain for some counties in Louisiana, Mississippi and Alabama as a tropical system surges north out of the Gulf of Mexico.
---
---
Saturday Heat Index
. Here is the prediction of what the combination of temperature + humidity will feel like on Saturday, according to NOAA. 105F heat indices are possible from the Carolinas to Texas, maybe 115F over southern Georgia.
---
---
---
---
Hello Summer Solstice!
Welcome to the longest day of the year. Then again, they're all 24 hours. OK, longest daylight of the entire year. Let's go with that.
---
---
Weather System Revamp Hopes To Bring Sunshine to U.S. Economy
.
The Guardian
has more details on the Weather Research and Forecasting Innovation Act of 2017, and why there's a need to keep upgrading NOAA: "...
It's the Weather Research and Forecasting Innovation Act of 2017, the first major weather legislation that Congress has passed since the early 1990s. The legislation empowers the National Oceanic Atmospheric Administration (NOAA) to boost its ability to predict major weather-related events, such as hurricanes, droughts, floods and wildfires. To accomplish that, NOAA plans to use new technology and data and to work more closely with academic and industry groups. It will also aim to improve the public warning system, such as issuing alerts earlier or using new technology for broadcasting those messages. NOAA, which runs the National Weather Service, is the primary government agency that collects and analyzes weather data. It holds the world's largest archive of weather and climate data, which is widely used by other public agencies, businesses and academic institutions.
.."
---
Remembering the Great Duluth Flood of 2012.
The
Duluth office of the National Weather Service
has a post on the historic rains that swept across the North Woods of Minnesota and Wisconsin 5 years ago: "...
In the week leading up to the flooding rains of June 19th-20th, parts of northeast Minnesota had received 2-4 inches of rain as numerous storm systems moved across the area. This helped to saturate the soil which primed the Duluth area for runoff in the extreme rain event that we received. On Tuesday, June 19th a cold front that had move through the previous day began to return north as a warm front, setting up stationary just south of Duluth. This front helped provide continuous lift for thunderstorms that developed over east central Minnesota tracking northeast into the Duluth area, the north shore of Lake Superior and into northwestern Wisconsin. The official rainfall in Duluth on the 19th was 4.14 inches. The thunderstorms finally ended when a strong cold front moved through Wednesday afternoon June 20th, but not before dumping another 3.11" at the airport. The official Duluth total rainfall for the event was 7.25". Duluth International Airport broke several rainfall records during this flooding event. Locally high amounts in the 8-10 inch range were reported throughout Duluth neighborhoods and along the North Shore of Lake Superior.
.."
---
Rising Seas Spurred Record Number of "High-Tide" Floods in U.S. Last Year
. I wonder what on Earth could be triggering this?
USA TODAY
reports: "
The U.S. endured a record number of days of high-tide flooding last year largely due to rising seas from man-made climate change, the National Oceanic and Atmospheric Administration said. Across the USA, coastal cities and towns racked up a combined 520 days with high-tide floods, far above the annual average of 275 days over the past couple decades, NOAA oceanographer William Sweet said. That broke the previous record set only a year earlier when 513 flood days were tallied in 2015, he added. The report only examined coastal flooding, not inundation brought on by sudden, heavy rain or overflowing rivers. As sea levels rise, it no longer takes a strong storm or hurricane to cause coastal flooding. It now occurs with high tides in many locations
..."
File photo
of tidal flooding in Ft. Lauderdale in October, 2016 courtesy of NOAA.
Portugal Wildfire: 61 Killed, Victims Burned in Cars As They Fled
.
CNN.com
has details on a horrific story unfolding in Portugal: "
A raging wildfire has ripped through central Portugal, killing 61 people and injuring dozens more in what officials there describe as the "greatest wildfire tragedy of recent years." At least 54 people were injured in the blaze Saturday, including eight firefighters and a child. Four of the firefighters were in critical condition Sunday, according to Paulo Santos, an operations and emergencies official with the National Relief Operations Command in Lisbon. The government has declared three days of mourning
..."
An Unimaginable Conflagration
. A wall of flames heading for your location, with no obvious safe retreat? This almost makes an EF-3 tornado seem like an acceptable risk. Photos courtesy of
The Atlantic
.
---
It's June. California Is Still Covered in Snow
.
Climate Central
reports: "
The summer solstice is just around the corner, but someone forgot to tell California's snowpack. After years of wallowing in drought, this winter walloped California's Sierra Nevada mountains in a major, record-setting way. And while the calendar says summer, winter still has its grips on the granite spine of the Sierras. NASA Earth Observatory released satellite imagery on Thursday that shows what a difference a year makes. Snowpack is at 170 percent of normal when averaged across the state and some areas are reporting way higher totals than that, according to the California Department of Water Resources. Alpine Meadows, located just west of Lake Tahoe, reported 288 inches of snow on the ground (no, that's not a typo) as of early June. Deep green hues of healthy vegetation also extend down the Sierra Nevada western slope, another benefit of all that precipitation
..."
---
The Radical Idea Behind Trump's EPA Rollbacks. Politico reports; here's a clip: "...
Pruitt has labeled this vision "EPA originalism," in a nod to some conservatives' long-running arguments that judges should interpret the Constitution as the Founders understood it. But several former EPA chiefs say Pruitt and Trump have it wrong — and that the agency's mission was never as narrow as the current administration wants it to be. "I don't personally think you can say, 'I'm somehow going back to what the basic responsibilities of EPA are,'" said Lee Thomas, who led the agency during Ronald Reagan's second term. "That's not what EPA is, that's not where the laws are, and that's not where the risk is.
.."
---
Scott Pruitt Vows to Speed the Nation's Superfund Cleanups. Communities Wonder How. The Washington Post reports: "...
In Bridgeton and elsewhere, others are asking similar questions with various degrees of hope and hesi­ta­tion. In his previous role as Oklahoma's attorney general, Pruitt had long-standing ties to oil and gas companies and a litigious history fighting the EPA. And although he has called the federal Superfund program "vital" and a "cornerstone" of the EPA's mission, the Trump administration has proposed slashing its funding by 30 percent. With more than 1,300 Superfund sites nationwide — some of which have lingered for decades on the EPA's ever-growing "priorities list" — it's unclear how Pruitt will back up his professed commitment in an age of scorched-earth budgets. Critics worry that a single-minded focus on speeding up the process could lead to inadequate cleanups
..."
Photo credit
: "
---
Once you've got used to living with an electric car, most people say they'd never go back to a conventional one. You are driving the future," says Melanie Shufflebotham who runs NextGreenCar, a website dedicated to low-carbon vehicles. An enthusiastic Nissan Leaf owner, she says improvements to the charging infrastructure, a greater awareness of the benefits of going electric in cities, and the fact that the technology is now proven have all allowed electric cars to move into the mainstream. "Range anxiety is largely a thing of the past.
.."
---
Investing Trillions in Electricity's Sunny Future
.
Bloomberg
breaks down the trends, and a fairly radical prediction: "
Bloomberg New Energy Finance has just published its fourth annual New Energy Outlook, a comprehensive forecast of the power industry from now to 2040. And every year, it is full of wonders. First among them for 2017 is an extraordinary showing for solar energy technology. Electricity's future is sunny -- and windy, too -- to the tune of trillions of dollars of new investment. According to the latest report, $10.2 trillion in power generation technologies will be invested worldwide in the next two decades, of which almost three-quarters will flow into renewable generation sources. Wind power will garner more than $3 trillion, and solar power will attract more than $2.5 trillion
..."
Image credit
: Bloomberg New Energy Finance New Energy Outlook 2017. "
Note: "Everything else" includes geothermal, biomass and oil-fired power
."
---
How Logos Became the Most Important Quarter-Inch in Business
.
Fortune.com
explains: "...
For starters, a logo isn't just a name or an icon or other visual signature on company letterhead or a billboard or other promotional venue anymore. Take that device out of your pocket or bag and swipe through the screens, as you probably do many times a day anyway. You now carry dozens of brand icons wherever you go. "People are literally, physically interacting with those symbols in a way that they never did," says Michael Bierut, partner in the prominent design firm Pentagram. For the Facebooks and Airbnbs and Snapchats and Ubers of the world in particular, he continues, that means "their customers are having a really, really intimate sort of relationship not just with those brands, but with the symbols that represent the brands
..."
Illustration credit
:
123 Klan for Fortune
.
---
Amazon's Move Signals End of Line For Many Cashiers
. Following up on the implications of Amazon swallong the world; here's a clip from
The New York Times
: "
Imagine this scene from the future: you walk into a store and are greeted by name, by a computer with facial recognition that directs you to the items you need. You peruse a small area - no chance of getting lost or wasting time searching for things - because the store stocks only sample items. You wave your phone in front of anything you want to buy, then walk out. In the back, robots retrieve your items from a warehouse and deliver them to your home via driverless car or drone. Amazon's $13.4 billion purchase of Whole Foods, announced Friday, could speed that vision along
..."
---
50 States of Glorious Hiking Destinations
.
Popsugar.com
breaks out some of the best hikes in all 50 states, with a non-obvious option for Minnesota: "...
From forests and grasslands to marshes and wetlands, in the Lebanon Hills Regional Park, you'll find it all. Hiking in this 1,869-acre park is a great way to escape the city and fully immerse yourself in the natural world. And with 14 miles of heavily wooded trails right at your fingertips, chances are you'll need to visit this park more than once to experience all the serenity the Lebanon Hills have to offer
..."
---
"Work as if you were to live 100 years. Pray as if you were to die
tomorrow
." – Ben Franklin
---
Climate Stories...
Half of World Could See Deadly Heat Waves by 2100.
Climate Central
has details on new research: "
If emissions continue on their current path, that proportion will jump to three-quarters of the world's residents, due to both rising temperatures and humidity, a new study detailed Monday in the journal Nature Climate Change, finds. That future is what study author Camilo Mora calls a choice between "bad and terrible," but crucially, it is still a choice. If the world reduces emissions, it can reduce the impacts of warming as much as possible. Societies will also have to adapt to rising temperatures and the higher risks to human health they bring, but it is the developing countries that are least able to adapt that are likely to be hit the hardest
..."
---
---
What You Need to Know About Mice, Ticks, Warm Temperatures and Lyme Disease.
The Law of Unintended Consequences - a shifting climate has implications many of us haven't thought about. Here's an excerpt from
The Washington Post
: "...
The dangerous trifecta of mice, ticks and Lyme disease might seem like a problem for only rural and suburban areas, but climate change is increasingly making it an issue in cities as well. "We know we're at risk in the country for getting Lyme," Wood says, "although people living in concrete jungles should know that they can get it there, too." Large city parks provide preferred habitat for white-footed mice: small parcels of land, grassy knolls, shady oak trees, brush for safely making nests, and few natural predators. Leo Galland, an internist practicing in New York City, says he treated a woman for acute Lyme after she found a blacklegged tick in her Park Avenue apartment. She had not left the city for months, but she often spent hours in nearby Central Park with her young child, and Galland says he believes a tick may have come home with her
..."
Photo credit
: "
---
Lawmakers Say GOP Reigning In DNR Scientists who Rebelled on Climate Change.
Madison.com
has the story: "
Deep in Gov. Scott Walker's budget proposal is a seemingly benign item formalizing the transfer of 15 scientists within the Wisconsin Department of Natural Resources. Two years ago, Walker and lawmakers enacted a budget that cut 18 DNR science service bureau researchers amid complaints that their research related to climate change, pollution and wildlife habitat were controversial and unneeded. Now the science services bureau is being dissolved and its remaining scientists moved to program offices that use their research
..."
---
If Trump Won't Fight Climate Change, We Must - For the Troops' Sake.
Here's an excerpt from
Defense One
: "...
Choosing not to take action against climate change will put our troops in harm's way more often in the not-so-distant future. Here's why: The Pentagon has long acknowledged climate change as a "threat multiplier" because its effects make the work of our men and women in uniform around the world even more difficult than it already is. More frequent and severe storms and droughts—and their consequences, including resource shortages and mass migration—mean the

U.S.

military will be asked take on more humanitarian relief missions, there will be stronger extremist groups on the battlefield, and possibly worse. These aren't fringe views. Defense Secretary Jim Mattis made the argument himself in his confirmation hearing testimony
..."
---
Antarctica is Melting, and Giant Ice Cracks Are Just The Start.
What can possibly go wrong. Here's an excerpt from
National Geographic
: "
Seen from above, the Pine Island Ice Shelf is a slow-motion train wreck. Its buckled surface is scarred by thousands of large crevasses. Its edges are shredded by rifts a quarter mile across. In 2015 and 2016 a 225-square-mile chunk of it broke off the end and drifted away on the Amundsen Sea. The water there has warmed by more than a degree Fahrenheit over the past few decades, and the rate at which ice is melting and calving has quadrupled. On the Antarctic Peninsula, the warming has been far greater—nearly five degrees on average. That's why a Delaware-size iceberg is poised to break off the Larsen C Ice Shelf and why smaller ice shelves on the peninsula have long since disintegrated entirely into the waters of the Weddell Sea. But around the Amundsen Sea, a thousand miles to the southwest on the Pacific coast of Antarctica, the glaciers are far larger and the stakes far higher. They affect the entire planet.
.."
Photo credit
: "
A startling sunset reddens the Lemaire Channel, off the west coast of the Antarctic Peninsula. The continent's coastal ice is crumbling as the sea and air around it warm
." Camille Seaman.
---
Not Your Mother's Jersey Shore
. It seems Superstorm Sandy has brought about new, higher-risk real estate opportunities along the New Jersey coastline. Here's an excerpt from
The New York Times
: "...
In response to Hurricane Sandy, New Jersey has instituted new construction regulations that follow federal standards and then some. Those people building new homes or rebuilding damaged homes in designated flood zones are required to raise their houses to the base flood elevation levels determined for each community by the Federal Emergency Management Agency, plus one extra foot, as set by the New Jersey Department of Environmental Protection
..."
Photo credit
: "
Bill and Michele Garofalo and their children, Amanda and Billy, on their top deck in Ortley Beach
." Tony Cenicola - The New York Times.
---