82 F
. high temperature in the Twin Cities Monday.
81 F
. average high on August 8.
82 F
. high on August 8, 2015.
August 9, 1948
: 7.72 inches of rain falls at Mankato.
Tropical Heat and Flooding Rains Return Later This Week
"Deep summer is when laziness finds respectability" wrote author and philosopher Sam Keen. I'd add my own deep thoughts if I just had the energy to get off the couch. Maybe
tomorrow
.
During an average summer (ha!) the atmosphere begins to stabilize in August. Longer nights cool the Earth's surface, resulting in fewer instability T-storms than June or July. In theory. On paper.
Not this year. Minnesota is precariously perched on the northern fringe of a sprawling heat bubble. Storms rippling along the U.S./Canada border yank some of this drippy, super-heated air north, resulting in spasms of heavy showers and T-storms.
According to NOAA last month was the 8th wettest July, statewide, since 1873. Many towns saw 2 to 3 times their normal rainfall last month.
Models print out another 1-2 inches of rain for the metro this week; some 3-5 inch totals possible over parts of central Minnesota by
Friday
. The metro area may top 90F
Wednesday
and
Thursday
before a wind shift to the northwest cools us off again by next weekend.
This summer, when in doubt, just predict rain.
---
* File photo above: Santiago Borja.
---
Another Heat Spike
. Models are suggesting a heat index in excess of 100F in the Twin Cities Thursday, largely the result of predicted dew points close to 80F. Relief comes in the form of heavy T-storms Thursday night (capable of flash flooding in some areas), followed by a cooling north to northwest breeze Friday and Saturday, dropping temperatures and humidity levels back down to tolerable levels. Source: Aeris Enterprise.
---
Extreme Rains Central Minnesota?
The 12z GFS run predicted a bullseye of extreme rains over central MInnesota, from near Alexandria to St. Cloud, with amounts in excess of 5-7" by Friday morning. Not buying it yet, but it's a data point - with dew points in the 70s to near 80F and a surge of moisture from the southwestern USA, courtesy of the soggy remains of Tropical Storm Javier in the Pacific, I could see extreme amounts north of the Twin Cities Thursday night. Source: WeatherBell.
---
Heaviest Rains North of MSP
. Model ensembles show 1-2" of rain for the Twin Cities (last night's 00z run prints out 1.77" for MSP by Friday morning). But closer to Brainerd amounts approach 4"; more than a month's worth of rain. Falling on waterlogged, saturated soil from extreme rains a couple weeks ago I could see more serious flooding for some areas of central Minnesota and the Brainerd Lakes.
---
ECMWF Numbers.
European guidance isn't as extreme as the GFS predictions, but the "Euro" still prints out 2-4" amounts for much of central Minnesota by Friday morning. Source: WeatherBell.
---
---
---
Confirming the Obvious.
Yes, July was wet - averaged over the entire state it was the 8th wettest since 1873, if anyone asks. More like two Junes in a row this year. Source: MN Climate Office and AerisWeather.
---
Weekend Cool-Down; Another Hot Jab Next Week. The Dog Days aren't going to fade anytime soon; no fast-forward into a persistent September-like pattern, at least looking out 2 weeks or so. Temperatures continue to trend (well) above average into the third week of August. Source: WeatherBell.
---
Aeris Weather Briefing
: Monday, August 8
th
, 2016
Dangerous – potentially historic – heavy rain and flooding will continue across parts of the Gulf Coast as a slow moving disturbance works west this week.
Totals of 3-6" have already been reported in parts of Florida through the weekend, and totals could top 8" from Louisiana to northern Florida as we head into next weekend. Places that will see heavy rain over the next several days will include Tampa, Tallahassee, Pensacola, Mobile and New Orleans.
Numerous roads will likely be impacted as we go through the week, with road closures possible. Already some road closures have been reported in Taylor County, FL

Monday

morning.
---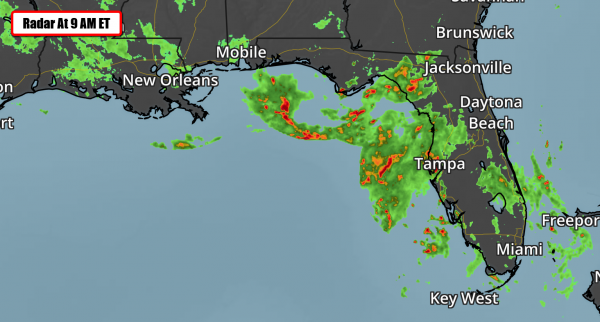 Radar As Of

9 AM ET

Monday.
Heavy rain is falling once again across parts of Florida this morning. In the
8 AM ET
hour, Clearwater, FL reported 0.66" of rain, indicative of the heavy rain associated with these storms that will be likely over the next few days.
---
Past 72 Hour Precipitation
. Already rain totals have been adding up throughout the weekend across parts of west central Florida, with totals topping 3-5" in spots. A CoCoRaHS observer near White Springs, FL reported 4.86" from
Sunday
into early
Monday
morning, and 5.88" fell at the Perry airport. Meanwhile, NWS radar has estimated that 10"+ of rain has fallen offshore.
---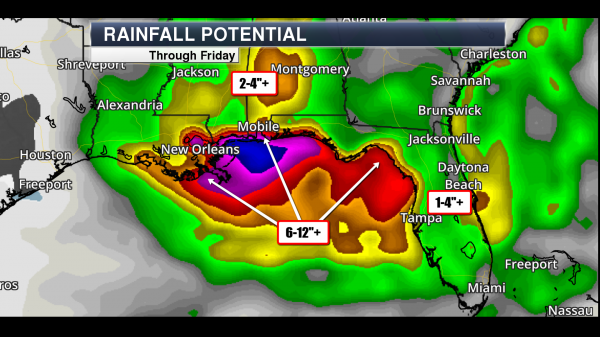 Additional Rain Through

Friday
. We will continue to see heavy rain along the Gulf Coast as we head through the work week. The heaviest over the next couple days will be across parts of western and northern Florida, including the Big Bend region. The disturbance responsible for this heavy rain will slowly move west throughout the week, focusing the heaviest rain toward the Emerald Coast of Florida, as well as coastal Alabama, Mississippi and Louisiana by mid to late week. This heavy rain has the potential to cause major flooding across the region, and road closures will be likely.
Forecast Rain Into The Weekend:
Tampa, FL:
2-5"
Tallahassee, FL:
7-9"
Pensacola, FL:
9-12"
Mobile, AL:
6-8"
New Orleans, LA:
4-8"
---
Flood Watches In Effect
. Flood Watches are in effect for parts of northern and west central Florida, including the Big Bend region into
Tuesday
morning for an additional 3-8" of rain on top of 2-8" already in spots. Flood Watches will likely be extended westward as we head into later this week as the heaviest of the rain slowly moves in that direction.
Flash Flood Watches are also in effect for parts of northeast Georgia, North Carolina and upstate South Carolina through this evening, where heavy downpours could quickly lead to 1-3" of rain across the region. Some local 4-6" totals are possible.
---
Flooding Concerns Through

Wednesday
. The Weather Prediction Center has outlined areas across parts of the Southeast and Gulf Coast over the next three days where the best opportunity of flash flooding will occur with heavy rain falling and already saturated ground. The potential of flooding will extend throughout the entire week across this region.
Summary.
Heavy rain will continue across parts of the Gulf Coast as we head through the work week due to a slow moving disturbance. Already 3-6" of rain has fallen this weekend across parts of Florida, and areas from New Orleans into northern Florida could easily end up with at least 8" of rain through the end of this week. This heavy rain will likely cause flooding and road issues across the region. Facilities across these areas that normally experience problems during flash flood scenarios should continue to be on alert for issues over the next few days.
D.J. Kayser, Meteorologist, AerisWeather
---
Warmer Than Average July, Year To Date Third Warmest For Lower 48 States
. Details via
NOAA
: "
July's reputation for sizzle didn't disappoint, bringing record warm temperatures to Florida and New Mexico and much above-average temperatures across the South, the East Coast and Alaska. The average July temperature for the contiguous U.S. was 75.3 degrees F, making it the 14th warmest July on record, according to scientists from NOAA's National Centers for Environmental Information. July precipitation averaged 2.87 inches (0.40 inch above average). From January through July, the average temperature for the Lower 48 states ranked as the third warmest on record at 54.3 degrees F, 3.0 degrees above average. Thirty-eight states were much warmer than average
..."
---
Billion Dollar Weather Disasters Since 1980
. Dollar-adjusted damage from tropicals systems exceed all other forms of severe weather combined, according to data from
NOAA NCDC
: "
The distribution of damage from U.S. Billion-dollar disaster events across the 1980-2016 preriod of record (as of July 2016) is dominated by tropical cyclone losses. From 1980-2016, land falling tropical cyclones have caused the most damage ($547 billion, CPI-adjusted) and also have the highest average event cost ($16.1 billion per event, CPI-adjusted). Drought ($218 billion, CPI-adjusted), severe storms ($175 billion, CPI-adjusted) and inland flooding ($97 billion, CPI-adjusted) have also caused considerable damage based on the list of billion-dollar events. It is of note that severe storms are responsible for the highest number of billion-dollar disaster events (81) yet the average event cost is among the lowest ($2.2 billion, CPI-adjusted) but still substantial. Tropical cyclones and drought represent the second and third most frequent event types (34 and 23), respectively.
.."
---
An Eye-Opening Flight Over California's Dying Forests
. Here's an excerpt of a sobering and equally eye-opening article at
The San Francisco Chronicle
: "...
The four crew members were halfway through two weeks of flights over landscapes shifting ominously from green to brown, and already they'd begun to draw their conclusion: The mind-boggling number of trees that have died in California due to drought — an estimated 66 million over five years — is only the beginning. The death toll will probably rise by tens of millions of trees, even if heavier rains come this year, said Greg Asner, head of the team from Carnegie Institution for Science in Washington, D.C. Using technology that has diagnosed problems in the Amazon rain forest and the jungles of Borneo, the researchers are learning that California's unprecedented tree die-off is moving well beyond its origins in the southern Sierra Nevada and along parts of the southern coast.
.."
Photo credit
: "
Dead trees dot the landscape of the southern Sierra. The death toll will probably rise by tens of millions of trees,the head of a research team from the Carnegie Institution for Science says
."
Max Whittaker/Prime, Special To The Chronicle.
---
Louisiana Politicians Go To Court Blaming Big Oil for Coastal Ruin. Here's the intro to an explainer at The Associated Press: "
The oil industry has left a big footprint along the Gulf Coast, where a Delaware-sized stretch of Louisiana has disappeared. But few politicians would blame Big Oil for ecosystem abuse in a state where the industry employs up to 300,000 people and injects $73 billion into the economy. Until now. Following the lead of Gov. John Bel Edwards, Louisiana political orthodoxy is being turned upside-down as prominent leaders of both parties join lawsuits seeking billions of dollars for environmental improvement projects.
.."
File Photo
: "
In this Wednesday, April 21, 2010 file photo, oil can be seen in the Gulf of Mexico, more than 50 miles southeast of Venice on Louisiana's tip, as a large plume of smoke rises from fires on BP's Deepwater Horizon offshore oil rig. Big Oil's legacy in Louisiana _ an industry long blamed for causing land loss in the coast _ is now in dispute like never before. What's changed is the person in the governor's mansion: After eight years of Republican rule, a Democrat is in the mansion
." (AP Photo/Gerald Herbert, File).
---
To Clean Up An Oil Spill, Light a Fire Tornado
. Here's an excerpt of a D-Brief at
Discover
: "...
These fire whirls could also potentially be used in combustion power plants as a way to generate power with less waste. "Fire whirls are more efficient than other forms of combustion because they produce drastically increased heating to the surface of fuels, allowing them to burn faster and more completely. In our experiments over water, we've seen how the circulation fire whirls generate also helps to pull in fuels. If we can achieve a state akin to the blue whirl at larger scale, we can further reduce airborne emissions for a much cleaner means of spill cleanup," says Michael Gollner, a co-author of the paper in a press release
..."
Image credit
: "
An image from the study showing three stages of a fire whirl. Left to right: Pool fire, fire whirl, blue whirl
." (Credit: Xiao et. al/University of Maryland).
---
The Making of a Fractivist
. When it's your home, your kid's school that's being impacted, suddenly things get personal, according to a story at
The Colorado Independent
. Here's a clip: "...
She read health studies from around the country that showed higher asthma rates near fracking sites, air quality studies that showed higher levels of the carcinogen benzene near fracking sites, and water studies that showed that leaking containment ponds used by energy development companies tainted drinking water sources. Not to mention her growing awareness that climate change science pointed to a growing problem that was bound to mess with her kids' future. For Pidanick, who lives in a covenant-controlled community that determines what color she can paint her house, whether she can have a basketball hoop on her garage, or how long she can park a car on the street, it's galling to know that she can't have a say in whether or not industrial activity can take place near where she lives and where her children go to school..."
---
Ending $4 Billion U.S. Oil Subsidy Seen Having Minimal Impact. Bloomberg reports: "
Eliminating $4 billion of petroleum subsidies in the U.S. would have only a minor affect on oil production and demand and boost the country's influence in advocating global climate change action, according to a report for the Council on Foreign Relations. Withdrawing oil-drilling subsidies could cut domestic production by 5 percent by 2030, which could increase international oil prices by just 1 percent, Gilbert Metcalf, a professor of economics at Tufts University, said in the report. Local natural gas prices could rise as much as 10 percent, while both production and consumption would probably fall as much as 4 percent, according to the report
..."
---
Against "Sustainability"
. Here's an excerpt of an Op-Ed at
The New York Times
: "...
When we talk about sustainability, then, what is it that we hope to sustain? We certainly do not sustain nature "in itself." Rather, we sustain nature as we humans prefer it. More precisely, we preserve the resources needed for human consumption, whether that means energy consumption or aesthetic consumption. In one sense, we preserve nature for industry. The human activity that has produced these environmental shifts is not isolated to one practice or one epoch, say, the consumption of carbon in the 20th century — though it may be accelerated by this. As Kolbert argues, the rise of Homo sapiens fundamentally altered the planetary ecosystem long before the invention of writing, the birth of René Descartes, or the first diesel pump
..."
Photo credit: "Adriana Zehbrauskas for The New York Times."
---
From Weddings to The Olympics, The Race to End Food Waste Quickens. Reuters has the (staggering) details: "...
Between 30 percent and 40 percent of food produced around the world is never eaten because it is spoiled after harvest and during transportation, or thrown away by shops and consumers.
Yet almost 800 million people worldwide go to bed hungry every night, according to U.N. figures.
The problem has become so serious that halving world food waste by 2030 was included as a target for global development goals adopted by world leaders in 2015..."
Photo credit: "
Workers separate food waste at a food court in the Eldorado shopping mall in Sao Paulo, Brazil, July 14, 2015.
" Reuters/Paulo Whitaker.
---
Solar System: Can Tesla Go From Sexy Car Company to Clean Energy Empire?
Here's a snippet of an interesting analysis on Tesla strategy from
The Los Angeles Times
: "
If you're wondering about Elon Musk's latest vision for Tesla, think Apple. Apple succeeded in turning a bland market for electronic devices into a coveted and connected lifestyle where your phone, your tablet, your computer, your watch and your television can all be bought in one place and work seamlessly together. It's about passion too. People continue to line up at Apple stores overnight to be the first to possess the latest iPhone. The company's launch events resemble the gathering of a cult
..."
Illustration credit
: "
Tesla is looking to create its own ecosystem, this one centered on sustainable energy, solar panels and batteries
." (Kagan McLeod / For The Times).
---
Do You Suffer From "Library Anxiety?"
Wait, what's a library? Here's an excerpt from
Atlas Obscura
: "...
Library anxiety is real. The phenomenon, which involves feeling intimidated, embarrassed, and overwhelmed by libraries and librarians, was first identified by Constance A. Mellon in 1986. Her paper, "Library Anxiety: A Grounded Theory and Its Development," reported that college students in particular are prone to library anxiety because they believe their research skills are inadequate, which makes them feel ashamed and unwilling to talk to the very librarians who might be able to ease their worries.
..."
Photo credit
: "
---
One group in particular is suffering (see article). Poorly educated men in rich countries have had difficulty coping with the enormous changes in the labour market and the home over the past half-century. As technology and trade have devalued brawn, less-educated men have struggled to find a role in the workplace. Women, on the other hand, are surging into expanding sectors such as health care and education, helped by their superior skills. As education has become more important, boys have also fallen behind girls in school (except at the very top). Men who lose jobs in manufacturing often never work again. And men without work find it hard to attract a permanent mate. The result, for low-skilled men, is a poisonous combination of no job, no family and no prospects
..." (Illustration credit: Jon Berkeley).
---
New Study Finds That Men Are Often Their Own Favorite Experts On Any Given Subject. Yes, but it anyone really surprised by this? Here's an excerpt from The Washington Post: "
A fascinating new working paper finds that men are far more likely than women to back up their arguments with appeals to a higher authority: themselves. When an academic writes a research paper, it is common practice to give citations for various facts and assertions. It is not enough, for instance, to simply assert that "the global rise of the hyperdiverse ant genus Pheidole is an evolutionary epic with many subplots." You need to cite biologist Corrie S. Moreau's 2008 paper on "Unraveling the evolutionary history of the hyperdiverse ant genus Pheidole" to make that argument.
.."
---
---
TODAY
: Some sun, sticky. Winds: S 8-13. High: 89
TUESDAY NIGHT: Partly cloudy. Low: 71
WEDNESDAY
: Hot & muggy. T-storms late. Winds: S 10-15. High: 90
THURSDAY
: More T-storms, locally heavy rain. Heat index over 100F? Winds: S 10-15. Wake-up: 74. High: 91 (Flash flood potential is significant Thursday and Thursday night, especially north of MSP).
FRIDAY
: Wet start, then intervals of sun, turning less humid. Winds: N 8-13. Wake-up: 71. High: 84
SATURDAY
: Intervals of sun, comfortable breeze. Winds: NW 10-15. Wake-up: 64. High: 80
SUNDAY
: Partly sunny and pleasant. Winds: NW 5-10. Wake-up: 62. High: 82
MONDAY
: Some sun, risk of a T-storm. Wake-up: 66. High: 85
---
Climate Stories...
Climate Change Warning Signs Getting Stronger
. Here's an excerpt from
The Toledo Blade
: "...
The new U.S. EPA report said the incidence of Lyme disease has doubled in the United States since 1991 as warmer temperatures allow more ticks to spread the disease. While New England continues to have the heaviest infestation, the Great Lakes states of Pennsylvania, Wisconsin, and Minnesota have also had large increases, the report said. The report showed the ragweed pollen season being extended as many as 18 days in Minnesota, 21 days in North Dakota, and as many as 25 days in parts of Canada and Missouri. It did not have information on the Zika virus, and said the jury's still out on any correlation between climate change and West Nile virus. "Those are public health costs. Those cost money," Mr. Szollosi said. "Those cause people to be off work. Those are not insubstantial costs
..."
---
---
Can We Help The Losers in Climate Change?
Communities and industries will be transformed - what can we do to make these inevitable changes more tolerable - how best to adapt? Here's an excerpt from
MIT Technology Review
: "...
In many ways, the disappearance of the coal economy is a harbinger of major transformations that climate change will bring about in other regions and other sectors. Industries from agriculture to real estate are likely to be devastated by global warming. While the effects on those sectors will look very different from the impact on the coal industry, the results will be similar: economic harm to large regions of the country. And yet little thought has been given to comprehensive, fair, effective strategies to manage those disruptions. In that sense the demise of the coal industry in West Virginia and Kentucky is just a trial run for much larger challenges ahead..."
---
Science Communication as a Moral Imperative.
Dr. Jonathan Foley, Executive Director of the California Academy of Sciences has an Op-Ed at
the MACROSCOPE
; here's a clip: "...
To all of these scientists and academic administrators, I say this: you are failing one of the most important moral imperatives of science in the 21st century. As scientists, we owe it to the world to do a better job communicating the wonders of science, and the incredible discoveries being made by our field, to everyone around us. And in this moment of history, when addressing scientific issues has never been more urgent and important, we have a special duty to share our knowledge, expertise, and passion with the wider world.
It is part of our social compact as scientists..."
---
Why The Rio Olympics and Leonardo DiCaprio Get Your Attention on Climate Change.
Dr. Marshall Shepherd explains at
Forbes
: "
If you watched the Opening Ceremony of the Rio Olympics Friday evening, social media was buzzing about the bold inclusion of a segment on climate change. The segment highlighted the perils of sea level rise on vulnerable nations and cities and also showed Ed Hawkins' compelling visual spiral indicating global warming. I also noticed more activity on my social media platforms from people that normally do not talk about the topic. The overwhelming comments where things like "wow, that was a wake up call" or "that really stimulated a conversation with my kids." On the same day, I read a study showing that Leonardo di Caprio's speech about climate change at the Oscars strongly resonated with the public. This convergence made me ponder why the "Rio Olympic Effect" and "the DiCaprio Effect" resonates with the public even though scientists have been warning of many of these effects for decades
..."
Photo credit
:
Huffington Post
, PAWEL KOPCZYNSKI/Reuters. "
Fireworks explode during the Opening Ceremony
."
---
Scientists Warn World Will Miss Key Climate Target.
The warming appears to be accelerating, with or without an El Nino turbo-boost. Here's an excerpt from
The Guardian
: "...
However, figures – based on Met Office data – prepared by meteorologist Ed Hawkins of Reading University show that average global temperatures were already more than 1C above pre-industrial levels for every month except one over the past year and peaked at +1.38C in February and March. Keeping within the 1.5C limit will be extremely difficult, say scientists, given these rises. These alarming figures will form the backdrop to the Intergovernmental Panel on Climate Change talks in Geneva this month, when scientists will start to outline ways to implement the climate goals set in Paris. Dates for abandoning all coal-burning power stations and halting the use of combustion engines across the globe – possibly within 15 years – are likely to be set
..."
---
---
Climate Change Has Produced a New Underwater Sound Superhighway
. I had no idea, but a story at
Nautilus
brought me up to speed; here's a clip: "
In March, a team of scientists dragged a blast furnace on a sled across a giant slab of ice in the Beaufort Sea, above the Arctic Circle. With the furnace, the researchers (from the United States Navy and the Massachusetts Institute of Technology) melted a hole in the ice big enough to fit their 850-pound, 12-foot drone, which they dropped through to the icy waters below. Their mission: to measure how climate change is altering the acoustics of the Arctic Ocean
..."
Photo credit
: "
Marion Doss / Flickr