-14 F. morning low St. Cloud Thursday.
1 F. high temperature yesterday.
24 F. average high on December 15.
31 F. high on December 15, 2015.
December 16, 2000
: A surface low pressure system tracks east-northeast through Iowa on the 18th and then into western Illinois during the early evening hours. Extreme south central and southeast Minnesota received 6 to 10 inches of snow, including Albert Lea with 10.5 inches, Kiester and Bixby with 6.0 inches.
December 16, 1972
: Fairmont has its fifteenth consecutive day with lows at or below zero degrees Fahrenheit.
December 16, 1940
: A snowstorm hits much of Minnesota. Water equivalent of the snow was 1.27 inches at Winona.
Wicked Cold - But First White Christmas

in 3 Years
It's a Charles Dickens December; the best of times, the worst of times. Now before you diagnose my brain-freeze let me explain.
For snow lovers these are the best of times. A real winter! No more excuses why it won't snow. El Nino? El Schmeeno!! This will be the first white Christmas since 2013, when we woke up to 9 inches on
December 25
. This year we may easily have a foot for Santa's arrival. Odds now favor average snowfall the rest of the winter, maybe 50-60 inches by late March. Finally.
If you don't like snow take heart: Minnesota's coldest days tend to be sunny, which removes much of the psychological sting. And the sun is now setting LATER every evening. In roughly a month average temperatures creep up again. The trend is for spring to arrive earlier. This premature spasm of January will pass.
Winter Storm Warnings mean treacherous travel is imminent; I expect 5-10 inches of powder, maybe a foot south of the downtowns. All that snow will be compressed into ice, leading to hideous conditions on area highways.
20s and 30s next week should feel like a (bad) vacation!
---
Sunday morning predicted air temperature: NOAA NAM and Tropicaltidbits.com
---
---
An Expansive Storm
. From heavy rain and blizzard conditions over California's Sierra Nevada range to a couple feet for Colorado ski resorts to nearly a foot from the Twin Cities to Milwaukee, to traffic-snarling snows over the Great Lakes and New England, the storm tracking across the USA will insure a white Christmas for roughly the northern half of the USA. 12 km NAM Future Radar: Tropicaltidbits.com.
---
---
Hang On
. After dripping into the -18 to -24F range Sunday morning (with a chill factor pushing -40F) the mercury rebounds above freezing by Tuesday. A 50 degree swing in 60 hours. Source: Aeris Enterprise.
---
Aeris Weather Briefings
:
Issued Thursday

afternoon
,
December 15, 2016
:
* Long-duration snowstorm likely from the Rockies and South Dakota into Minnesota, Wisconsin and the Great Lakes from
Friday
into
Saturday
; potential for up to a foot of powdery snow.
* Heavy lake effect snows continue for Buffalo, Rochester and Syracuse with 2-3 foot totals by the weekend.
* Band of icy precipitation likely from Missouri into the Ohio Valley this weekend.
* High Wind Warnings posted for New York and Boston;
winds gust over 60 mph
tonight
and early
Friday
.
* Dangerously cold air temperatures and wind chills for the Upper Midwest by
Sunday
; coldest
in 3 years
with air temperatures near -20 and a chill factor of -30 to -40.
---
Travel Disruptions Likely.
The bright purple-shaded areas are under a Winter Storm Warning, which means that treacherous travel conditions are not only likely, but imminent. Lake Effect Snow Warnings remain in effect from Cleveland and Erie to Buffalo and Rochester, New York for excessive amounts of snow. Map credit: AerisWeather.
---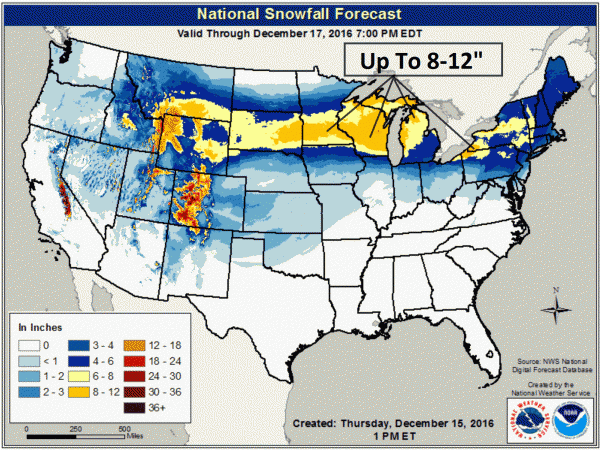 Snowfall Overview
. With cold temperatures in place this will be a powdery snowfall, more prone to blowing and drifting. Although blizzard criteria won't be met, colder storms tend to be more dangerous than storms with snow falling at 25-32F. Chemicals don't melt snow effectively at temperatures below 15F, and traffic can compress snow into a stubborn layer of ice that is almost impossible to remove. The bottom line: travel by land/air will be slow from
Friday
into
Saturday
over the northern tier of the USA. Map: NOAA.
---
Another Pile for the Twin Cities
. Some of the high-resolution models are forecasting over a foot of snow for Minneapolis, St. Paul. That may be a little high, but 5-10" of powdery, fluffy snow seems likely for much of central and southern Minnesota by
Saturday
afternoon. Source: HopWRF.
---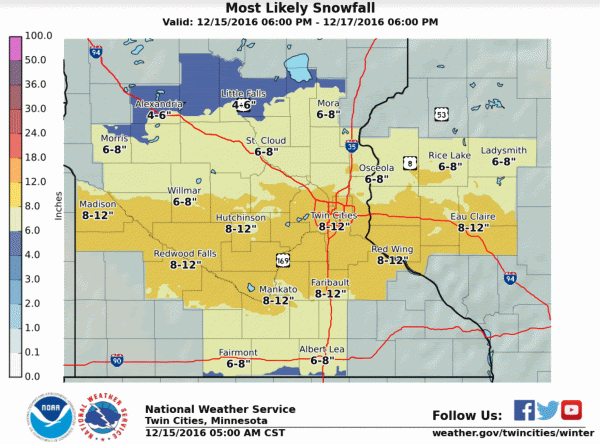 Heaviest Snow Bands
. Right now it appears the axis of heaviest snow will set up from Hutchinson and Mankato into the Twin Cities and Eau Claire, where some 10"+ snowfall amounts are expected by
Saturday
. Snow will gradually pick up in intensity during the day
Friday
; about 4-5" on the ground at MSP by
Friday
evening. By the time flurries taper late
Saturday
at the tail end of the storm closer to 10-12" will have fallen. Map credit: NOAA.
---
Plowable Snows for Madison, Milwaukee and Green Bay
. Wisconsin will also bear the brunt of this next snow, with the heaviest snows falling
on Saturday
. As much as 10-12" may fall from Madison and Milwaukee to Green Bay.
---
Chicago: Brushed by Plowable Snow
. Although the heaviest snow band should remain north of Chicago a few inches may still slow travel in metro Chicago
Friday
night into
Saturday
.
---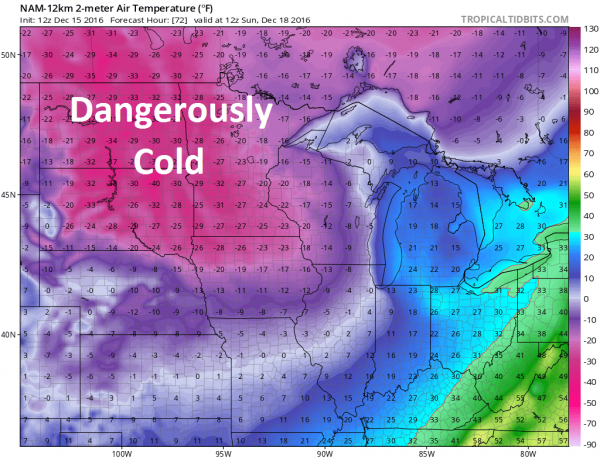 Dangerously Cold by

Sunday
. Models pull double-digit negative numbers into the Dakotas and Minnesota by
Sunday
morning; the coldest air temperatures in nearly 3 years for many cities. Wind chills will be in the danger zone
Saturday
night and much of
Sunday
, with temperatures failing to rise above 0F in the Twin Cities
Sunday
afternoon. Source: Tropicaltidbits.com.
---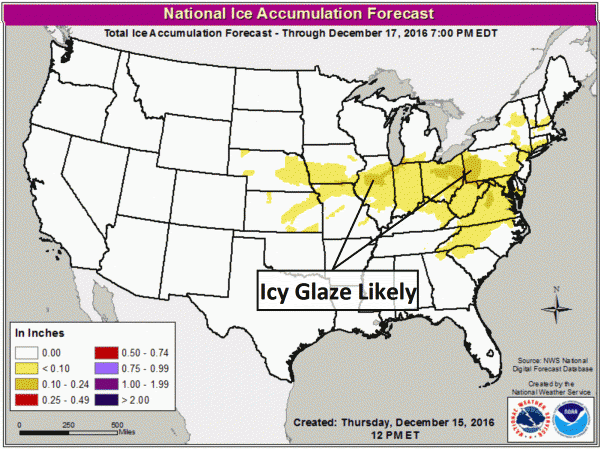 Icy Mix Likely
. South of the anticipated heavy snow band temperatures aloft may be warm enough for rain, but that rain may fall on surfaces colder than 32F, resulting in icy build-up on roads and powerlines from northern Missouri into the Ohio Valley and western Pennsylvania late
Friday
into
Sunday
.
---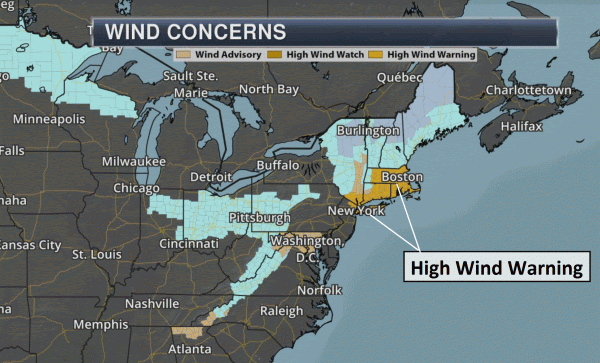 Wild and Windy.
The latest cold blast is forecast to turn on high winds across much of southern New England
tonight
; High Wind Warnings are posted from Boston to Hartford and New York City.
---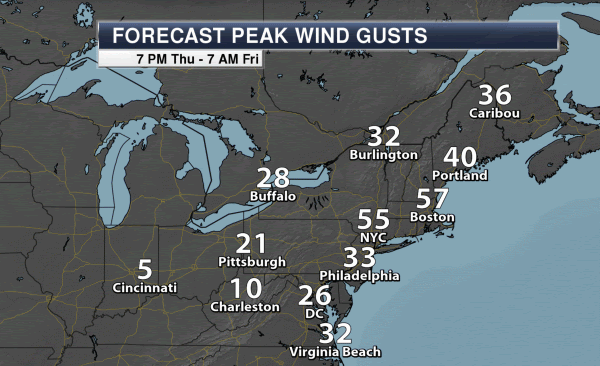 Power Outages Can't Be Ruled Out
. Winds are forecast to gust close to 60 mph from New York to Boston, strong enough to bring down tree limbs and spark sporadic (probably isolated) power outages
tonight
into early
Friday
.
Summary
: The coldest air
in 3 years
will push into the Upper Midwest by
Sunday
, preceded by a smear of heavy snow and ice, capable of disrupting travel and facility operations from the Dakotas and Upper Midwest into the Great Lakes, Ohio Valley and New England. Up to a foot of snow will slow things down from the Twin Cities to Milwaukee; lake effect snows burying much of upstate New York under 2-3 feet of additional snow. And winds
tonight
will be howling across southern New England. The cruel winds of January are blowing prematurely this year, and it should result in more snow, ice and cold than the past 2 winters across much of the USA. We'll keep you posted.
Paul Douglas, Senior Meteorologist, AerisWeather
---
Winds Gust to 106 mph in California's Sierra Nevada
. SFgate.com has the
details
.
Flooding and Mudslides in the Bay Area
. Details from
KGO-TV
.
---
Scientists Are Making Artificial Ice Storms
. Here's another excerpt of an article that made me do a double-take, courtesy of
Vice Media
: "...
Syracuse University bio-geochemist Charley Driscoll and US Department of Agriculture (USDA) Forest Service ecologist Lindsey Rustad are trying to understand the ways that ice storms—winter hazards of the Northeast and Midwest United States—damage forest environments, and how those environments recover from such a devastating blow. Rather than waiting around for nature to deliver an ice storm, however, they created their own. The National Science Foundation, who funded the research, released a video that documents the storm brewing action
..."
---
Abnormally Warm Arctic Spurs Planet to Second-Warmest November on Record
. Jason Samenow reports at
Capital Weather Gang
: "
It's frigid outside over large parts of the United States, but the planet is still warming, as evidenced by a near record-warm November for the globe. Temperatures in parts of the Arctic averaged more than 20 degrees above normal, as Earth recorded its second warmest November since 1880 (when records began). NASA data show the planet's temperature was 1.7 degrees above the 1951-1980 November average, and just slightly cooler than November 2015 — the record-setter (at 1.8 degrees above average). While some media commentators misleadingly claimed the Earth's land temperature recently experienced its greatest drop ever recorded, NASA data show whatever drop there was (because of the transition from El Niño to La Niña) has begun to reverse
..." (Image credit: NASA).
---
Experts Explain Why the U.S. Saw a Low Tornado Count in 2016
. Here's an excerpt of a good explainer at
AccuWeather
: "...
The lower counts were mostly over the main tornado-prone regions of the U.S., including the Plains and South. These areas experienced drier-than-normal weather during the warm season. Because tornadoes require a particular mix of ingredients in order to form, the number of tornadoes is highly dependent on the prevailing weather patterns.

"The lack of deep moisture prevented the development of strong and widespread thunderstorms during much of the spring and certainly during the summer and fall seasons," Kottlowski said. The lack of sustained and widespread thunderstorms reduces the chances for tornado development
..."
---
Earth Is Probably Unprepared for a Comet Strike
. A story at
The Atlantic
had me checking the skies above my house. Still comet-free, for now. Here's a clip: "...
This means that while NASA might have years or decades to plan for a close-call with an asteroid, a comet could side-swipe Earth only 18 months after it was detected. So Nuth had a recommendation: The United States should build two comet-destroying spacecraft ahead of time. The first, an "observer" craft, could be launched as soon as a threat is identified. The second, an "interceptor" craft, could dislodge the asteroid or comet from its orbit or blow it up. Both spacecraft would sit in storage until such a time as they were needed. Doing this advanced work, he said, would reduce the U.S. government's "response time" to any hazardous object from about five years to less than 12 months.
.." (File photo credit:
NASA
).
---
Oil and Gas Industry Back In Favor in Washington D.C.
The Washington Post
reports: "
After eight years of being banished and sometimes vilified by the Obama administration, the fossil fuel industry is enjoying a remarkable resurgence as its executives and lobbyists shape President-elect Donald Trump's policy agenda and staff his administration. The oil, gas and coal industries are amassing power throughout Washington — from Foggy Bottom, where ExxonMobil chief executive Rex Tillerson is Trump's nominee to be secretary of state, to domestic regulatory agencies including the departments of Energy and Interior as well as the Environmental Protection Agency.
.."
Photo credit
: "
---
There's a transformation happening in global energy markets that's worth noting as 2016 comes to an end: Solar power, for the first time, is becoming the cheapest form of new electricity. There have been isolated projects in the past where this happened: An especially competitive auction in the Middle East, for example, resulting in record-cheap solar costs. But now unsubsidized solar is beginning to outcompete coal and natural gas on a larger scale, and notably, new solar projects in emerging markets are costing less to build than wind projects, according to fresh data from Bloomberg New Energy Finance.
.."
Graphic credit
: "
Disclosed capex for onshore wind and PV projects in 58 non-OECD countries
." Source: Bloomberg New Energy Finance.
---
The U.S. solar market has "shattered" records for quarterly solar photovoltaic installation, according to a new report. In the third quarter of 2016, 4,143 megawatts of solar PV were installed, equivalent to one megawatt every 32 minutes, according to the Q4 2016 U.S. Solar Market Insight report from GTM Research and the Solar Energy Industries Association (SEIA). "Coming off our largest quarter ever and with an extremely impressive pipeline ahead, it's safe to say the state of the solar industry here in America is strong," Tom Kimbis, the SEIA's interim president, said in a statement on Tuesday.
.."
---
Nearly a Quarter of Willmar's Power is Renewable
.
West Central Tribune
has the story: "
While the Willmar Municipal Utilities wind turbines are the most visible example of renewable energy in town, in fact nearly a quarter of the city's power comes from different renewable sources. "We're a little bit ahead of the curve," Utilities General Manager John Harren said.Renewable energy sources, which include wind, solar and hydroelectric, account for 22 percent of Willmar's power load. The largest portion of that comes from the utilities' many power supply contracts with different energy generators. This includes solar and wind power
..."
Photo credit
: "
---
If you love technology, it may be time for a group hug: This year has been rough for consumer technology. From exploding smartphones and hoverboards to the proliferation of fake news on social media, many of our tech hardware, software and web products suffered embarrassing failures. Behemoths like Google, Facebook and Samsung Electronics were on the firing line as a result. Yet the year was not entirely bleak. There were major strides in several areas of consumer tech, including Wi-Fi, virtual reality and encryption. What follows is a year in review on the tech that needed the most fixing, and the tech that was actually fixed in 2016..."
---
Who Sold The Most CD's in 2016?
It Wasn't Drake, Kanye or Beyonce. Take a bow, Amadeus! Here's an excerpt from
Atlas Obscura
: "
The artist who sold the most CDs in 2016 hasn't toured in over 200 years, but is still more famous than Drake. According to a report on Billboard, Wolfgang Amadeus Mozart made a massive comeback this year with a career-spanning box set that left other CD sales look weak in comparison. Released in October, Mozart 225: The New Complete Edition is a 200-disc collection of Mozart's entire musical catalogue. From his symphonies to his concertos, down to little scraps and fragments of his work, the set is one of the most comprehensive collections of Mozart's music ever released. And at just over $300, it's not even that expensive (considering the amount of music it contains)
..."
---
---
TODAY
: Winter Storm Warning. Snow likely. Icy roads. Winds: SE 8-13. High: 15
FRIDAY NIGHT
: Snow continues, treacherous travel. Low: 4
SATURDAY
: 5-10" snowfall totals, maybe a foot southern suburbs. Snow tapers to flurries. Winds: NW 10-20. High: 5 (falling)
SUNDAY
: Coldest
air in 3 years
. Feels like -40F early. Winds: W 8-13. Wake-up: -22. High: -2
MONDAY
: Mostly cloudy, not as nasty. Winds: SW 10-20. Wake-up: -4. High: 23
TUESDAY
: Clipper arrives with more flurries. Winds: W 15-25. Wake-up: 20. High: 33
WEDNESDAY
: Peeks of sun, better travel. Winds: SE 5-10. Wake-up: 18. High: near 30
THURSDAY
: Intervals of sun, grilling weather. Winds: W 8-13. Wake-up: 21. High: 31
---
* Photo credit parhelia, with 22-degree halo and "sun dogs" courtesy of AerisWeather meteorologist Todd Nelson.
---
Here at Vox, we're big fans of clever graphics and visualizations that make climate change, which can sometimes seem abstract and impenetrably complex, easier to grasp. We've highlighted several this year (see here, here, and here), more than one of them from University of Reading climate scientist Ed Hawkins, who seems to have a real eye for these things. Helpfully, Hawkins has rounded up his own favorite climate visualizations from the year in one place — graphics showing the rise in temperatures, the rise in CO2 concentrations, the melting of Arctic ice, and more. So without further ado, here are the coolest, most visually arresting ways of understanding just how screwed we are. Thanks, 2016
..."
---
NASA Produces First 3-D Animation of Global Carbon Emissions
. Here's an excerpt from
EcoWatch
: "
The National Aeronautics and Space Administration (NASA), the U.S. space agency, has released an "eye-popping" three-dimensional animation showing carbon dioxide emissions moving through the Earth's atmosphere over the course of a year. It says the 3-D visualization is "one of the most realistic views yet" of the "complex patterns in which carbon dioxide in the atmosphere increases, decreases and moves around the globe." The data used to produce the visualization was collected by NASA's Orbiting Carbon Observatory-2 (OCO-2) satellite from September 2014 to September 2015
..."
---
Late Night Comics Could Have a Real Impact on Climate Change Denial.
Don't laugh - there's something here, reports
Popular Science
: "...
People watch these comedy shows in large part to be entertained. They're not there for the science. They're sometimes there for the politics," said Feldman. Airtime on comedy shows, Feldman said, is "going to get a whole lot more people paying attention to science." In a 2011 study, Feldman and her colleagues found that people who watched The Daily Show and The Colbert Report were more likely to follow news about science and technology—and particularly global warming. The effect was most pronounced among viewers without a college education.
.."
---
---
A coalition of the world's most powerful bankers, regulators and even executives at some heavy polluters have a message for oil and gas companies: Be more forthcoming about the risks posed by climate change. The new guidelines, issued on Wednesday by a task force commissioned by the Group of 20 richest nations, are some of the most comprehensive about how companies should measure and disclose the predicted effects of extreme weather and rising seas. These recommendations come at a tough time for climate advocates, still reeling from the prospect of a presidential administration in the United States hostile to steps to address climate change. With little prospect for new rule making in the United States and slow progress elsewhere, the task force urged corporations to disclose climate risks voluntarily.
.."
---
Climate Change Brewing More Extreme Weather, Shifting Breaking Points
.
Ars Technica
has the article; here's an excerpt: "...
As for what's ahead, the researchers wanted to use their model to understand the environment's "breaking point"—the temperature above which the precipitation rate stops increasing and starts to decline. The concept was not well understood before, but the researchers wanted to know whether global warming may shift this breaking point. According to their model—which assumes that future weather patterns look more or less like current and past weather patterns—extreme precipitation events in the future "are projected to significantly increase in almost all North American land regions," the authors write in their paper. That's because climate change creates warmer and moister environments, which in turn produce more extreme precipitation events—shifting the "breaking point
..."
---
At least 12 million people lived in ongoing displacement caused by conflict, violence, and other disasters across the African continent in 2015. And in the future, climate change may be the lead driver of even greater displacement. In the Africa Report on Internal Displacement — a new report by the Internal Displacement Monitoring Centre that focused on internal displacement across the entire African continent — researchers found that "disasters triggered by rapid-onset natural hazards" forced 1.1 million people from their homes across 33 African countries last year. What's more, disaster-induced displacement makes people more vulnerable from one year to the next and more susceptible to food insecurity since planting and harvesting become disrupted when farmers are absent
..."
Photo credit: "Fishermen transport villagers with their belongings across floodwaters in Phaloni, southern Malawi, Jan 22, 2015." CREDIT: AP Photo/Shiraaz Mohamed.
---
Shrinking Mountain Glaciers Are "Categorical Evidence" of Climate Change, Scientists Say
. Here's the intro to a story at
The Washington Post
: "
From the rapidly melting Greenland ice sheet to increasing instability of West Antarctica, the world's glaciers have become the dramatic face of climate change. But while ice loss at the poles often garners the most attention (thanks to its hefty potential contributions to global sea-level rise), other smaller glaciers all over the world are also steadily shrinking — and scientists say they constitute some of the clearest signals of climate change on the planet.
A
new study
, published Monday in the journal Nature Geoscience, uses a new statistical method to analyze the retreat of mountain glaciers all over the world, from Russia to South America. It concludes that their shrinking represents "categorical evidence of climate change..." (Image credit: USGS).