10 F. high temperature yesterday in St. Cloud.
21 F. average high on January 12.
1 F. maximum temperature on January 12, 2016.
January 13, 1916
: The high temperature in the Twin Cities only reaches a frigid -14 degrees.
Temperatures Bottom Out - January Thaw Next Week!
Numb and Number, The Sequel. Welcome to the coldest morning since December 18, 2016, when the official low at MSP was a crisp -20F. We're waking up to -10 to -15F in the close-in suburbs, where the urban heat island is taking some of the edge off the burn.
Winds are nearly calm, so the wind chill won't be much colder than the actual air temperature. Even so, unprotected skin can be frostbitten
within 10 minutes
.
At -40F exposed skin freezes
within 1 minute
; at -60F (hello Tower, Minnesota!) exposed skin can freeze within seconds. When it's that cold your breath turns to ice crystals that fall to the ground. Really.
The MSP metro area has picked up 23 inches of snow this winter; a whopping 4 inches on the ground. A far cry from January, 1982, when snow lovers were delirious, with 38 inches to report!
Word to the wise: get out and play in that new Minnesota powder this weekend. We thaw out by
Monday
, when a light mix arrives. ECMWF guidance hints at 40F late next week; more rain by the weekend of
January 21-22
.
Rain? Hard to fathom on a brisk, invigorating morning like this.
---
Thump Your Chest!
And here it is, the reason so many American's eyes get big when pondering what Minnesota is like in January. "How do you live out there?" Well, I hold my breath a lot and try not to lick metal objects. "What does it feel like?" Like being dipped headfirst into a vat of mild acid - a slight burning sensation that makes you want to check and see if you still have all your fingers and toes. Then again I've been more uncomfortable at grade school assemblies, and this cold sting won't last nearly as long. 30s return next week; the atmosphere warm enough for a light mix by Monday and Tuesday. We keep oscillating between subzero and March temperatures with rain. Odd, to say the least.
---
Warming Trend. Hard to believe, but if ECMWF guidance is on the right track it may be 50-55F warmer here within a week. Not sure we'll really see 40F but a streak of 30s seems imminent. Source: WeatherBell.
---
Ice Storm Develops
. The 84-hour 12 KM NAM model shows a smear of ice developing near Wichita, spreading toward St. Louis, Champaign-Urbana and Indianapolis as surface temperatures should be cold enough for rain to freeze on contact. California gets a brief break, but another big storm will whack the west coast the latter half of next week. Animation: Tropicaltidbits.com.
---
Hints of March Next Week
. The west coast remains unusually chilly, but 60s are forecast to push as far north as Chicago 1 week from Saturday with 70s in the Mid South and 80s across Florida, according to GFS data. Old Man Winter takes a breather, although the weather has been anything but harsh for most of the south and east this winter, with only a few exceptions.
---
Excessive Salt Use is Hurting Minnesota Lakes, State Officials Warn
. Here's an excerpt from
Lake Minnetonka Patch
: "...
There are currently 47 waterbodies in Minnesota that tested above the water quality standard for chloride, with 39 in the metro. An additional 39 surface waters in the metro are near the chloride standard and many others are unknown. The data show that salt concentrations are continuing to increase in both surface waters and groundwater across the state. Currently, there are no environmentally safe, effective and inexpensive alternatives to salt. However, officials say residents can reduce salt at the source through smart salting application strategies
..."
---
Too Much Snow Closes Ski Resorts in California, Nevada
.
USA Today
reports: "
Instead of bringing delight to skiers and snowboarders eager for fresh powder, the intense snowstorms that buried the mountains of California and Nevada under up to 10 feet of snow this week instead caused several winter resorts to close. The massive amount of snow combined with high winds and road closures on Wednesday again shut down the Woodward Tahoe Ski Area in California, which referred to the storm as #Snowpocalypse2017. Nine feet of snow in three days also shuttered California's Kirkwood Mountain Resort in California, and road closures and other complications from the storm likewise left Nevada's Mt. Rose Ski Tahoe not welcoming the normal stream of winter enthusiasts
..."
Photo credit
: "
Heavy rain and snowfall hit parts of California, Nevada and Oregon early on Wednesday, causing roads to be closed, schools to cancel classes and widespread flooding along already swollen waterways
."
USA TODAY NETWORK.
---
Meanwhile - Record Warmth Out East. Check out a long list of record highs on Thursday. Amazing.
---
Climatology of Freezing Rain. Minnesota sees about 3-5 days a year with freezing rain (glaze ice). But the greatest frequency is found in New England. Here's an excerpt from Midwestern Regional Climate Center: "
The Midwest and Northeast are prime areas for freezing rain events. Note the high frequency areas in western Minnesota and western Iowa, and the band from central Illinois eastward through northern Indiana, Ohio, and eastward. In the high frequency band in the Midwest, an average of 12 to 15 hours of freezing rain occurs annually. While freezing rain can occur anytime between November and April, most freezing rain events occur during December and January
...."
---
AerisWeather Briefing
: Issued Thursday morning, January 12
th
, 2017
* A major ice storm is shaping up for the end of the week and into the early weekend for areas from northern Texas into the Ohio Valley.
* Ice accumulations of at least a quarter to a half an inch will be possible across portions of this region. Current forecasts show the potential of three quarters of an inch or more of ice across parts of Oklahoma, Kansas and Missouri.
*
Ice accumulations of this magnitude would cause significant travel issues, with the potential of many roads becoming ice covered making travel impossible. This significant icing would accumulate on trees and power lines, leading to power outages.
* Winter Storm Watches are now in place from northern Texas to Illinois for the significant icing threat. These watches include
Oklahoma City, Wichita, Dodge City, Kansas City, and St. Louis
.
---
Ice Storm Potential
. A long duration ice storm is shaping up as we head into the weekend from Texas to the Ohio Valley as warm, moist air surges north over temperatures that will be closer to freezing near the surface. In some of these areas, we could see at least a quarter to a half an inch of ice, which would lead to tree and power line damage as well as impossible travel conditions.
---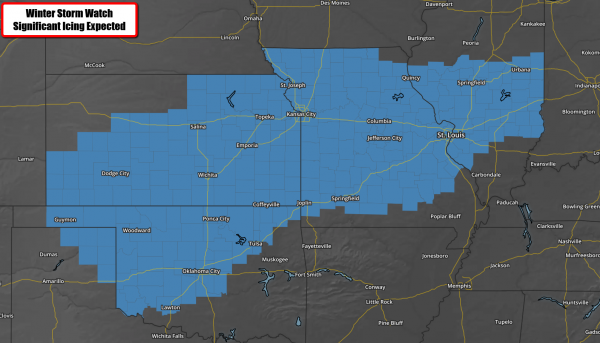 Winter Storm Watches In Place
. Due to the significant icing expected as we head into the end of the week and the weekend, Winter Storm Watches have been issued from northern Texas to Illinois. Expect a number of these to be upgraded to Ice Storm Warnings as we head through the next several days.
---
Forecast Ice Totals - Oklahoma
. This is a snapshot of forecast ice totals through
Saturday
evening across Oklahoma. While some more freezing rain will be possible
Saturday
Night, particularly across northern and western Oklahoma, at least a quarter inch or more of ice is possible as far south as the Oklahoma City metro through
Saturday
. In Oklahoma City, freezing rain will start
tonight
and last on and off into
Saturday
. Some rain may mix in
tomorrow
depending on where the freezing line sits, but heading into
Saturday
enough warm air looks to move in to change it to all rain through the end of the weekend.
---
Forecast Ice Totals - Kansas
. Across Kansas, the heaviest ice accumulation will be across parts of south-central and southeast Kansas through
Saturday
Night, where over a half an inch of ice could be possible. For Dodge City, the chance of freezing rain moves in
Friday
Night and the threat lasts into
Sunday
. In Wichita, the freezing rain threat begins
Friday
and lasts into
Sunday
, with regular rain mixing in both
Saturday
and
Sunday
. Map credit: WeatherBell.
---
Forecast Ice Totals - Missouri
. Missouri is where some of the heaviest ice could fall as we head through the weekend, with the potential of over a half of an inch of ice from Joplin to across central areas of the state. St. Louis could see between a quarter and a half an inch of ice, with Kansas City picking up around a quarter inch. In St. Louis, freezing rain will start off during the day
on Friday
and last into
Sunday
, with the heaviest ice accumulation expected
Friday
Night. In Kansas City, the freezing rain potential will begin
Friday
Night and last until midday
on Sunday
, with some of the heaviest ice accumulation occurring
Saturday
Night into early
Sunday
.
---
Probability Of 0.10"+ Ice Through

Sunday

Morning
. There is at least a 50% chance of at least a tenth of an inch of ice from northern Texas into central Illinois as we head into early
Sunday
morning, with the best chance of accumulating ice across portions of Oklahoma, Kansas and Missouri. It is also important to note the potential of freezing rain as far east as Washington D.C.
Friday
Night and
Saturday
. This amount of ice is enough to cause trouble on the roads and put a coating on trees and powerlines, which could start to weigh them down. Map credit: NOAA.
---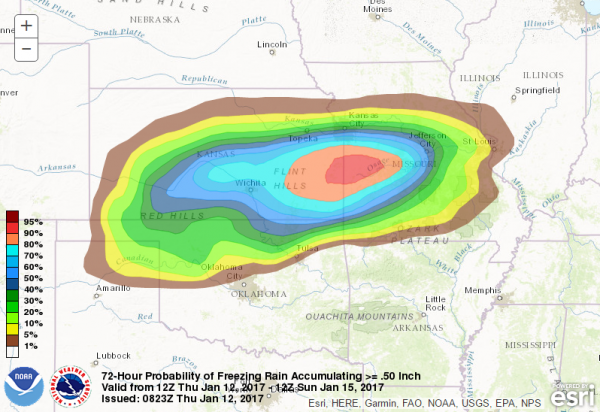 Probability Of 0.25"+ Ice Through

Sunday

Morning
. There is at least a 40% chance of at least a quarter inch of ice from Dodge City, KS westward to Jefferson City, MO, and south to Bartlesville and Ponca City in Oklahoma. The highest probability of at least a quarter inch of ice is across eastern Kansas and western Missouri.
Ice accumulations of this magnitude would cause significant travel issues, with the potential of many roads becoming ice covered making travel impossible. This significant icing would accumulate on trees and power lines, leading to power outages.
Summary:
A potentially crippling ice storm is on track as we head into
Friday
and the weekend for parts of the central and southern Plains, with ice accumulations of at least a quarter to a half an inch possible from Oklahoma to Missouri. Winter Storm Watches have been issued from northern Texas to Illinois for this significant icing threat. These watches include
Oklahoma City, Wichita, Dodge City, Kansas City, and St. Louis
. Ice accumulations of this magnitude would cause significant travel issues, with the potential of many roads becoming ice covered making travel impossible. This significant icing would accumulate on trees and power lines, leading to power outages. This would have the potential to greatly disrupt operations through the weekend and into early next week, depending on how fast power companies would be able to get power back up.
D.J. Kayser, Meteorologist, AerisWeather
---
Will a 5 Year U.S. Tornado Drought End in 2017?
Andrew Siffert includes some good news with his comprehensive overview at
BMS Media Centre
: "...
When the calendar flipped to 2017, a switch seemed to turned on for US severe weather season: severe weather impacted the Gulf Coast states with 31 tornadoes on January 2 (PCS 1711). Just two weeks into the year, 2017 already has 4.4 times more than the normal number of tornadoes. However, the great news is that 2016 ended with lower reported tornado numbers, and the preliminary numbers suggest that 2016 ended up as a year with the fewest tornadoes since 1954 (when records started)
..."
---
Top 5 Weather Events of 2016 in Minnesota
.
The Minnesota DNR
has the list; here are the top 2 weather events of last year: "
Here are the results of voting for the top five weather events of 2016 from the Minnesota State Climatology Office. Votes were cast from various weather enthusiasts including the National Weather Service, the University of Minnesota, State agencies and Facebook followers...
#2 Central Minnesota Flash Flood July 11-12, 2016
The largest flash flood in Minnesota since the event of June 19-20, 2012 struck part of the same region on July 11-12, 2016. The highest two-day total was a volunteer reader in Pine County with 9.34 inches. Southbound I-35 and Highway 61 was closed for a time on July 12. The area covered by six inches or more of rainfall exceeded 2,000 square miles, qualifying it as a "Mega Rain" event. The flooding would have been worse had it not been for the relatively dry conditions beforehand. In addition to the heavy rain, there were three tornadoes, two of which were EF2. .
#1 State Record Precipitation Total at Waseca and Record Annual Twin Cities Precipitation.
The event that garnered the most votes was the statewide annual precipitation record set at Waseca and the Twin Cities annual record precipitation. The preliminary 2016 precipitation total at Waseca is 56.24 inches, handily breaking the old record at St. Francis in Anoka County of 53.52 inches in 1991. The 2016 total at Waseca breaks the old record by 2.72 inches. The Twin Cities also broke the annual precipitation record that was set over 100 years ago. The preliminary total for 2016 is 40.32 inches, breaking the old record of 40.15 inches set in 1911. The precipitation record for the Twin Cities begins in 1871..."
Map credit
: Minnesota DNR, State Climate Office. The July 11-12 "Mega-Rain" was one of 2 mega-rain events of 2016; the first time on record Minnesota has experienced 2 such widespread flood events.
---
---
Winter Weather Misery Index: This Is Still a "Mild" Winter
. The arctic smacks and snow bursts have been evened out by 30s and rain. Factoring in snowfall and temperature it hasn't been that bad, at least not yet. That said, I think we'll at least wind up in the "moderate" range by the end of meteorological winter. Here's an excerpt from the
Minnesota DNR
: "..
As of January 10, 2017 the WMI for the 2016-17 winter is at 41 points: 19 points for cold, 22 points for snow. This is enough for this winter to be in the "mild" category. Fourteen more points are needed for this winter to be categorized as "moderate." The WMI for the winter of 2015-16 finished with

47

points, enough for 2014-15 to be categorized as a "mild" winter. The WMI points for the 2015-2016 winter were 18 for cold and 29 snow: 46 points. The winter of 2016-17 should easily pass last winter in points. The WMI for the winter of 2013-14 in Twin Cities was

207

points, or in the high end of the "severe winter" category. This was the 9th most severe winter on record based on WMI points. The lowest WMI score was the winter of 2011-2012 with 16 points. The most severe winter is 1916-1917 with 305 WMI points. Note, this could also be called the "Winter Fun Index" depending on your perspective!
..."
---
Pineapple Express Delivers Heavy Rains, Flooding, Drought Relief to California
. Here's an excerpt of a
NASA article
that delves into atmospheric rivers and the mixed atmospheric blessing now underway in California: "
California, which has long been suffering through a strong, multi-year drought, is finally beginning to see some much needed relief as a result of a recent series of storms that are part of a weather pattern known as the "Pineapple Express." The Pineapple Express is known as an atmospheric river. A large, slow-moving low pressure center off of the West Coast taps into tropical moisture originating from as far south as the Hawaiian Islands. This moisture is then channeled northeast by the subtropical jet steam towards the West Coast where the topography aids in squeezing out the moisture as air flows over the mountain ranges. Though these rains are certainly welcome and very much needed, they have also led to flooding and mudslides. The first storm in the series arrived in the middle of last week and brought rain to northern and central California. The next storm occurred over the weekend and brought heavy rains again to mostly northern and central California although southern California also received significant amounts. This event lead to widespread flooding, down trees and mudslides, especially in the Sierra Nevada where hurricane force winds occurred and Interstate 80 was closed due to a massive mudslide
..."
---
---
It's Official: 2016 Was Second Hottest Year for U.S.
Only 2012 was warmer.
Climate Central
reports: "
2016 was the second hottest year for the U.S. in more than 120 years of record keeping, government scientists announced on Monday, marking 20 above-average years in a row. Every state had a temperature ranking at least in the top seven, with two, Georgia and Alaska, recording their hottest year. The announcement comes a week before the National Oceanic and Atmospheric Administration, which released the U.S. data, and NASA are expected to announce that 2016 set the record for the hottest year globally. Both the global record and the U.S. near-record are largely attributable to greenhouse gas-driven warming of the planet
..."
---
---
Command and Control
. The book was amazing, and now PBS's American Experience has turned it into a must-see documentary. There have been over 1,000 accidents involving nuclear warheads since the 1950s. Let that statistic sink in. We've just been very, very lucky.
Stream it online here
: "
A chilling nightmare plays out at a Titan II missile complex in Arkansas in September, 1980. A worker accidentally drops a socket, puncturing the fuel tank of an intercontinental ballistic missile carrying the most powerful nuclear warhead in our arsenal, an incident which ignites a series of feverish efforts to avoid a deadly disaster. Directed by Robert Kenner (FOOD, INC.) and based on the critically acclaimed book by Eric Schlosser (FAST FOOD NATION), COMMAND AND CONTROL is a minute-by-minute account of this long-hidden story. Putting a camera where there was no camera that night, Kenner brings this nonfiction thriller to life with stunning original footage shot in a decommissioned Titan II missile silo. Eyewitness accounts — from the man who dropped the socket, to the man who designed the warhead, to the Secretary of Defense— chronicle nine hours of terror that prevented an explosion 600 times more powerful than Hiroshima
."
---
Netflix for Cars; $1,500/month To Drive Any Cadillac, Anytime
. Like every other industry, the car industry is being disrupted. This is an interesting concept, initially available in New York City - focusing on people who want a little variety in their vehicle diet. Here's an excerpt from
The Washington Post
: "
In what AdAge is calling a "Netflix for cars," Cadillac has launched a program that it says is a "first-of-its-kind luxury vehicle subscription service." The program is called Book by Cadillac and here's how it works: For starters, customers are no longer customers. They're now "members." A member pays a flat monthly fee of $1,500 (there's also a one-time $500 initiation and processing fee). For all this, the member gets unlimited access to several Cadillacs – from the V Series, XT5 and CT6 to an Escalade – for as long and whenever wanted. These same cars would cost between $60,000 and $100,00 if purchased outright, according to a Reuters report. The car is home delivered and the fee includes registration, taxes, insurance and maintenance costs. There's no mileage limit and if you want out of the program you just have to give 30 days' notice
..."
Press release
from Cadillac is
here
.
---
All of Las Vegas's City-Owned Buildings Now Run on Renewable Energy
.
Motherboard
has the story: "
Las Vegas is best known for its blinding neon signs and indulgent venues, but more recently the city government has set its sights on keeping the lights on in a more sustainable way. Las Vegas's city-owned buildings and other public infrastructure are now entirely powered by renewable energy as of December, including about 48,000 streetlamps, lights inside City Hall and power at city parks, Las Vegas spokesman Jace Radke said
..."
---
Start-Up Company That Wants to Recycle Electric Batteries On Display at Detroit Auto Show
.
WXYZ-TV
in Detroit reports: "...
One company is showcasing a new way to reuse electric car batteries. Shiv Rajendran of Totus Power said, "We actually take somebody else's waste and use it to provide electricity to people in developing countries." That's the mission behind Totus Power. Shiv, an electrical engineer, has found a way to make electric cars even more green. He takes used electric batteries that would've been throw out and gives them another purpose. "They are not actually dead, they just don't have the power to run a car, but they are almost as good as new for running tablets, cell phones, laptops, essentially replacing the lead-acid batteries that the majority of the people in developing countries use," he explained
..."
---
Report Ranks Iowa as Top State for Corporate Access to Clean Energy.
Midwest Energy News
reports: "
According to a new report, companies looking for easy access to renewable energy should consider moving to Iowa. That state, followed by Illinois, topped a ranking released Tuesday by the nation's retail and tech sectors urging state governments to lower barriers to the further development of renewable energy. Ohio came in 8th. The report, assembled by Clean Edge on behalf of the Retail Industry Leaders Association and the Information Technology Industry Council, comes just as state legislatures across the country are convening for their 2017 sessions. The report was quite clear about its intentions: to urge changes in state laws and regulations regarding renewable energy, and especially corporate access to it.
.."
---
Minnesota Utility Sees Declining Returns in Coal Power Generation.
Midwest Energy News
reports: "
Minnesota's second biggest utility, Great River Energy, has begun to significantly ramp down the output of its largest coal plant as the market has shifted to wind power and natural gas production. The transmission utility's Coal Creek Station, located 50 miles north of Bismarck, North Dakota, can produce 1,100 megawatts (MWs) of electricity. That makes it the largest power plant in North Dakota and by far the biggest in Great River Energy's system. Currently, though, the plant operates at less than a third of its full output in times of high wind production – spring and fall – as the cost of having it operate at full capacity costs the company money. Some days the plant produces less than 300 MW
..."
---
How Netlfix is Deepening Our Cultural Echo Chambers
.
The New York Times
has an interesting article; here's an excerpt: "...
Instead, we're returning to the cultural era that predated radio and TV, an era in which entertainment was fragmented and bespoke, and satisfying a niche was a greater economic imperative than entertaining the mainstream. "We're back to normal, in a way, because before there was broadcasting, there wasn't much of a shared culture," said Lance Strate, a professor of communication at Fordham University. "For most of the history of civilization, there was nothing like TV. It was a really odd moment in history to have so many people watching the same thing at the same time
..." (Image credit:
Doug Chayka)
---
It's More Expensive Than Ever To Raise a Child in the U.S.
It's a big number, according to
The Washington Post
: "
It's more expensive than ever to raise a child in the United States, where families will shell out an average of $233,610 from birth through age 17 — or about $13,000 a year — according to new figures from the government. The ballooning price tag, a 3 percent increase from a year earlier, comes at a time when day-care costs can exceed university tuitions and homes prices have skyrocketed to record highs. Families in urban areas in the Northeast, such as New York and Boston, were likely to pay even more — an average of $253,770, or roughly $14,000 a year — because of higher housing and child-care costs, according to a report by the Department of Agriculture
..."
---
Why Do Canadians Say "Eh"?
I learned something today, thanks to
Atlas Obscura
: "...
Jack Chambers, a linguist at the University of Toronto, writes that these "ehs" are all of a piece. "All of these uses have one pragmatic purpose in common: they all show politeness," he wrote in a 2014 paper. Using "eh" to end the statement of an opinion or an explanation is a way for the speaker to express solidarity with the listener. It's not exactly asking for reassurance or confirmation, but it's not far off: the speaker is basically saying, hey, we're on the same page here, we agree on this. Even in the use of "eh" as a criticism or a command, the word seeks to find common ground. If I say "you're an idiot, eh?", what I'm saying is, you're an idiot, but you should also think you're an idiot, and our understanding of you as an idiot finds us on common ground
..."
---
Hotel or Cruise Gone Bad?
It turns out it's a luxury hotel, shaped like a cruise ship. Ah!
Atlas Obscura
clears up any lingering confusion: "...
Believed to be the world's first hotel designed as a cruise ship, the Sun Cruise Resort and Yacht is over 500 feet long and nearly 150 feet tall. Complete with 211 rooms, six restaurants, a sculpture garden, and a volleyball court, the giant misplaced boat sits peculiarly atop a tall cliff to give the impression that it's run aground. The resort is known throughout the region for its eye-catching appeal, and it takes full advantage by playing the sounds of bird calls and oceanic waves to mimic the actual experience of sailing on a cruise liner without the consequential seasickness
..."
---
---
TODAY
: Numb-ish. Patchy clouds, few flakes? Cold enough for me. Winds: SE 3-8. high: 8
FRIDAY NIGHT
: Partly cloudy, not as cold. Low: -2
SATURDAY
: Intervals of sun, getting better. Winds: SW 5-10. High: 20
SUNDAY
: Partly sunny, hibernation optional. Winds: SE 5-10. Wake-up: 13. High: near 30
MONDAY
: Cold rain or light mix. Winds: E 8-13. Wake-up: 22. High: 33
TUESDAY
: Light mix or drizzle. Mainly wet roads. Winds: NW 5-10. Wake-up: 30. High: 34
WEDNESDAY
: Intervals of sun, hints of March. Winds: S 8-13. Wake-up: 23. High: 36
THURSDAY
: Partly sunny, January Thaw lingers. Winds: SE: 5-10. Wake-up: 25. High: 37
---
Climate Stories...
There's Snow in Portland, So Is Global Climate Change Even Real? Yes, say Scientists
. People continue to confuse weather with climate. Weather is a single argument. Climate is 40 years of marriage. 40 years of arguments. Here's an excerpt from
OregonLive.com
: "...
Then, the more important thing: "You can't judge the trend by a single data point," Bonk said. "'Climate' is what you expect," Bonk told us, "but 'weather' is what you actually get. So one episode of snow or one sequence within a particular season does not imply that our overall climate is going one way or the other." "You need to look at the long term trend over decades to hundreds to thousands of years," he added. The Weather Service focuses on weather, Bonk said, or what is happening now and in the next couple of weeks
..."
Photo credit
: "
Mack Faamausili of Northeast Portland headed into work on bike, only to return home after learning it was closed for the day due to the winter storm. In Northeast Portland, residents wandered through the streets and in the snow in the early morning hours. Several inches of snow blanketed Portland, January 11, 2017.
" Beth Nakamura/Staff.
---
Climate Change is Fueling a Second Chance for Nuclear Power
. PRI,
Public Radio International
, has the story: "...
Now, the idea of cooling a reactor with liquid sodium is being revived by a generation of nuclear scientists and entrepreneurs who see climate change as a bigger threat than nuclear power. The highest-profile liquid sodium project is being developed by TerraPower, backed by Bill Gates and his former Microsoft chief technology officer Nathan Myhrvold. "From a technical perspective, we've solved every technical problem that's occurred," Myhrvold says. "But I can't tell you, 'Oh yes, we've already been successful.' It's going to be many more years of hard work before we are successful." "So we made a crazy bet," he says, "and we're going to keep making that crazy bet.
.."
---
---
Carbon Deposit in Congo Swamp Equal to 20 Years of Gas Emissions: Study.
Here's an excerpt from
Reuters
: "
Scientists say a recently discovered area of peatland straddling the two Congos contains 30 billion tonnes of carbon dioxide, equivalent to 20 years of U.S. greenhouse gas emissions, and must be protected to prevent major environmental damage.
The British and Congolese teams, who made the discovery in 2014, say it is the largest known tropical peatland - home to rare gorillas and forest elephants - and in Wednesday's edition of Nature they say development there would release the gas.
Carbon dioxide is linked to climate change and peatlands, formed from the accumulation of dead plant material, act as "carbon sinks." Peat does not decompose in a water-logged state but when it dries, the organisms that break down plant material revive and the carbon seeps back into the atmosphere..."
---
Guest Column: Climate Stewards' Views are Independent. Here's an excerpt of an Op-Ed at Maryland's Capital Gazette: "...
Sea level in Annapolis has risen by about a foot over the past 85 years and is projected to rise at an increasing pace in the future. Current efforts to protect our city from rising seas involve adaptation, but even if the efforts succeed in holding back nuisance flooding and storm surges for a decade or a century, adaptive measures do not address the underlying problem: global warming is melting sheet ice and glaciers and raising ocean temperatures, thus raising sea levels. Annapolis cannot stop global warming, but as citizens and a city we can, while implementing adaptive measures, set examples for how to shift away from fossil fuels and advocate strongly, as people on the front line of climate change, for effective mitigation policies at the state, national and international levels
..."
File photo
:
Water Environment Federation
.
---
Antarctica Is About to Lose an Enormous Amount of Ice. The Question is What Happens After That.
Chris Mooney has the story at
The Washington Post
: "
Last week, British scientists announced a disturbing finding — a crack in the Larsen C ice shelf in the Antarctic Peninsula had dramatically accelerated its spread, increasing 11 miles in length in the space of a month. This means the floating ice shelf, which is nearly as big as Scotland and the fourth largest of its kind in Antarctica, is poised to break off a piece nearly 2,000 square miles in size, or over 10 percent of its total area. An ice island the size of a small U.S. state would then be afloat in the Southern Ocean. That's dramatic enough, but there is uncertainty in the science world about what would happen next. On the one hand, the researchers with Project MIDAS, who announced the growth of the rift, have published research suggesting that, in their words, it "presents a considerable risk to the stability of the Larsen C Ice Shelf." If they're right, it's hard to understate how big a deal it is — Antarctica has lost ice shelves before, but not one so enormous. Not only would a loss of Larsen C change the map of the Earth itself; the shelf holds back glaciers capable of contributing about 4 inches of global sea level rise over time.
.."
---
Alaskan Village, Citing Climate Change, Seeks Disaster Relief In Order to Relocate.
There will be more climate refugees. Here's an excerpt from
NPR
: "
The tiny village of Newtok near Alaska's western coast has been sliding into the Ninglick River for years. As temperatures increase — faster there than in the rest of the U.S. — the frozen permafrost underneath Newtok is thawing. About 70 feet of land a year erode away, putting the village's colorful buildings, some on stilts, ever closer to the water's edge. Now, in an unprecedented test case, Newtok wants the federal government to declare these mounting impacts of climate change an official disaster. Villagers say it's their last shot at unlocking the tens of millions of dollars needed to relocate the entire community
..."
Photo credit
: "
The Ninglick River is eating away at the shoreline in Newtok, Alaska, shown here in August 2016. Engineers estimate the village is losing 70 feet of land per year
.
" Eric Keto/Alaska's Energy Desk.
---
Swiss Alps Has Least Snowfall for Skiing in a Century. Bloomberg reports; here's a clip: "...
You can't expect things to be the same as they are now in 50 years' time," said Reto Knutti, a professor at the Swiss Federal Institute of Technology's Institute for Atmospheric and Climate Studies, who estimates that by the end of this century the snowfall line could be 500 meters to 700 meters higher than today, with the length of time there's snow on the ground between four and eight weeks shorter. "Winter days where at locations below 3,000 meters it just pours rain—that'll be more frequent." Already, the snow season in Switzerland starts 12 days later and ends 26 days earlier than in 1970, says Martine Rebetez, a professor at the University of Neuchatel, who along with colleagues studied data from 11 Alpine meteorological stations over four decades
..."
---
Crazy Carbon Crystals and More New Ways to Fight Climate Change.
Are we on the cusp of a tech revolution in "carbon capture"? There are some very encouraging developments, highlighted in a post at
Forbes
; here are 2 excerpts: "...
In other words the solution could be used to grab CO2, which contributes to climate change, direct from the atmosphere and store it temporarily into crystals that form as a result...What might surprise readers most, though, is that this is just one way researchers have come up with to extract greenhouse gases from the ambient air. Last year I reported on a novel method that uses solar power to transform ambient CO2 into a raw material that can be used to create all sorts of things from aircraft to wind turbines. There's also interesting work going on around injecting CO2 into rock and converting it into ethanol.
.."
Photo credit
: "
Carbon dioxide trapped in crystals
."
---
Republicans Want to Fight Climate Change, But Fossil Fuel Bullies Won't Let Them.
Here's an excerpt of an Op-Ed from Senator Sheldon Whitehouse at
The Washington Post
: "...
The dirty secret is that climate change is not really a partisan issue in Congress. Its history has not been partisan, with Republican senators such as John McCain, Lamar Alexander, Susan Collins, Lindsey O. Graham and Jeff Flake (as a House member) having introduced climate bills in the past. Climate change became partisan in 2010, shortly after the five Republican-appointed justices of the Supreme Court upended a century of law and precedent to issue the Citizens United decision, which rejected limits on corporate spending on political campaigns. The timing is not a coincidence. Big-business interests, particularly the fossil-fuel industry, led the charge. That industry's annual U.S. subsidy is $700 billion, according to the International Monetary Fund. With stakes that high, the incentive to protect the subsidy and the amount that the fossil-fuel industry can afford to spend on political influence are enormous, so the restraints of campaign finance and disclosure rules were particularly galling
..."
Photo credit
: "