-19 F. morning low on Friday in St. Cloud (-42 F. at Embarrass, MN).
3 F. high temperature yesterday at KSTC.
21 F. average high on January 13.
20 F. high on January 13, 2016.
January 14, 1981
: Over 24,000 Canada Geese are present at Silver Lake in Rochester.
January 14, 1952
: A sleet and freezing rain storm develops across Minnesota from St Cloud south into Iowa. 1,100 Northwestern Bell telephone wires are knocked down. The Buffalo Ridge in the Pipestone area is the hardest hit with ¾ inches of solid ice on Northern State Power wires with icicles to 3 inches. Northwestern Bell reported ice up to 1 ½ inches on their wires in the same area. Thunder and a shower of ice pellets accompanied the storm in New Ulm and Mankato. Minneapolis General Hospital treated 81 people, victims of falls on icy streets.
Hot Off The Wire: Temperature Inflation Coming
Yes,
Friday
morning's low temperature forecast for the metro area was a bust. It ONLY got down to -7F at MSP International Airport. Patchy clouds moved in, trapping warmth, preventing the mercury from tumbling even farther. Under crystal clear skies just north of the cities temperatures fell to shriek-worthy levels: -42F air temperature at Embarrass early
Friday
; a wind chill of -55F near Birchdale, Minnesota! Big ouch.
Fresh snow, terrain, cloud cover and proximity from metro areas can all impact how cold it gets. The urban heat island can keep close-in suburbs 5-10 degrees warmer, especially when winds are light.
The much-advertised January Thaw is still coming. We creep above 32F by
Monday
- ECMWF guidance hints at 8 days in a row in the 30s. To which Minnesotans raise their arms and shout a collective EUREKA!
A sloppy southern storm spreads a mix of wintry precipitation into town
Monday
and
Tuesday
; temperatures aloft just warm enough for a little rain and sleet. We cool off a bit by late January but a higher sun angle makes it harder to get sustained subzero weather in February.
---
384-hour GFS 2-meter temperature forecast: NOAA and Tropicaltidbits.com.
---
Minnesota: Coldest Spot in the USA This Week
. On at least 3 separate days, according to Mark Seeley. Here's a snippet from this week's
Minnesota WeatherTalk
: "...
With the snow, came an invasion of polar air which made temperatures tumble to below zero F readings around the state. Minnesota reported the nation's coldest temperature three times this week. On January 8th Cotton (St Louis County) reported a minimum temperature of -34°F. This was not only the coldest reading in Minnesota that day, but the coldest in the nation as well. Then on January 12 Hibbing reported -31°F, Embarrass reported -32°F and Cotton reported -35°F, coldest in the nation. Finally on January 13th, International Falls and Embarrass reported a morning low of -39°F and Cotton reported -42°F, coldest in the nation again. Fortunately moderating temperatures are seen for the coming weekend, with a more dramatic warm up starting by the middle of next week
..."
---
---
Friday Numbers
. As cold as -42F at Embarrass with a wind chill of -55F at Birchdale, yesterday was definitely character-building. Graphics: Aeris Weather.
---
Icy Possibilities
. The west coast gets a badly needed break - generally dry thru Wednesday of next week. Meanwhile a very significant accumulation of glaze ice is expected from the central Plains into the Ohio Valley over the weekend with travel disruptions likely; even a few power outages. Another storm lifts across the Plains into the Midwest Sunday and Monday, pushing another smear of rain, ice and snow northward.
---
January Thaw.
A thing to behold, perhaps as many as 8 days at or above 32F in the Twin Cities. Not sure about 40s, but now NOAA i s hinting at 40F by the end of next week. As we melt the 4" of snow on the ground it will easier for the mercury to creep a little higher. Twin Cities ECMWF numbers: WeatherBell.
---
NOAA Numbers
. A mix of rain, ice and snow will keep temperatures a bit cooler Monday and Tuesday, but once that system moves out temperatures should climb 10-15F above average late next week before chilling down the last week of January.
---
Colder and Stormier Pattern Returns by Late January.
At least according to NOAA's GFS simulation, which shows a thrust of Canadian air pushing south, and a very strong subtropical jet capable of whipping up a significant storm for the central USA. Way too early for details, but after melting snow east of the Rockies next week Old Man Winter could make some new snow the last week or so of January.
---
California Today: Is The Drought Over?
The short answer seems to be a qualified yes. After 6 years of mandatory conservation measrues there is cause for optimism. Here's an excerpt from
The New York Times
: "...
Reservoirs that were parched last year are close to capacity. The snowpack — which keeps the water flowing into the early summer as the snow melts — is 161 percent of normal. The United States Drought Monitor for this week reported that 42 percent of the state was out of drought conditions, compared with 3 percent last year. "In terms of surface water, most of California is no longer in drought," wrote Jay Lund, the director of the Center for Watershed Sciences at the University of California in Davis.
.."
Photo credit
: "
A flooded vineyard in Forestville, in Sonoma County, where the Russian River breached its banks.
" Eric Risberg / Associated Press.
---
Holy Snow Drift! It sounds counterintuitive, but there is TOO MUCH snow at some of these ski resorts, increasing the risk of avalanches (and people not being able to reach the resort). What a difference a year makes. Graphic: Sacramento National Weather Service.
---
Is The Drought Over? Wrong Question! Here's another perpective on longer term trends from Peter Gleick at The Mercury News: "...
Are the reservoirs filling up? Yes, California's big reservoirs are filling rapidly to the point that we must balance the need to store water for dry periods with maintaining space to hold back flood waters. As with the snowpack, the real measure will be how full they are at the end of the wet season. Will this year's rains reverse the massive overdraft of groundwater aquifers in the Central Valley? No. This may be the biggest water problem California faces: our use of groundwater often exceeds natural recharge. During the past five years, that imbalance has been enormous. It's like a bank account in perpetual overdraft and the balance continues to go down. This year should see a drop in groundwater withdrawals, but even a wet year won't prevent some continued overdraft, and it won't help thousands of people in disadvantaged communities whose wells have run dry in the Central Valley. Will this year's rains reverse the damage to forests in the Sierra? No, more than 100 million trees have died from drought, temperature stress and insect infestation.
.."
Photo credit
: "
Jeremy Burton of San Jose, takes a picture of the high waters on the Los Gatos Creek Trail in Los Gatos Tuesday
." (Nhat V. Meyer/Bay Area News Group).
---
---
California Drought - Digging Out From a Very Deep Hole
. AerisWeather meteorologist Joe Hansel has
additional perspective
on the cost of a drought which was going on its 7th year: "..
.Let's really simplify things. In terms of dollars, the direct cost of California's drought was about $550 million with a total economic impact of $603 million. In terms of people, 4,700 jobs lost from the CA drought. These numbers were from 2016 alone – Source: California WaterBlog. The recent and partial drought 'busting' has been nice… but it's likely not going to be enough to completely erase short and long term problems. It's worth noting the scope and effects of this large scale drought in terms of both time and land covered is beyond the scope of this weather blog. But here we go… According to a USDA article published on August 22, 1016, we are talking major impacts on the state's agriculture sector and production. The drought continued for California's agriculture in 2016, but with much less severity and widespread impacts than in the two previous drought years, 2014 and 2015. And 2016's drought was still 'bad.' That gives us at least a little reference to how awful the conditions have been for so long.
.."
Photo credit
: "
Flooding Scene at Yosemite National Park, early WED, Jan 11th 2016
."
---
---
---
AerisWeather Briefing
:
Issued Friday morning
, January 13
th
, 2017:
* A major ice storm that'll go through the weekend is underway this morning with freezing rain already falling from Oklahoma to Indiana.
* Ice Storm Warnings have been issued from northern Texas to southern Illinois for the potential of a half an inch or more of ice.
Ice accumulations of this magnitude would cause significant travel issues, with many roads likely becoming impossible to travel on. This significant icing would accumulate and weigh down/snap tree branches and power lines, leading to power outages.
* Sleet and freezing rain will also be possible as far east as Washington D.C.
tonight
and into the weekend. Ice accumulations up to a tenth of an inch are possible in D.C. through
Saturday
night.
* The icing threat will shift north as we go through the weekend and into early next week. Winter Storm Watches are in effect from east-central Colorado across northwest Kansas, Nebraska, Iowa and central Illinois for this threat later in the weekend as well as some snow.
---
Morning Radar
. The freezing rain event has started this morning from Oklahoma to Indiana, with reports of a light glazing of ice south of the St. Louis metro and west of Evansville, IN. There have also been reports of ice on bridges in the Oklahoma City metro.
---
Ice Storm Warnings
. Ice Storm Warnings are now in place from northern Texas through parts of Oklahoma, Kansas, Missouri and Illinois. Typically they are issued when at least a quarter of an inch of ice is expected across the warning area. However, we could see totals of a half to three quarters of an inch (or more) across some of this area. To the south and east of the warning, Freezing Rain Advisories are in effect for the potential of up to a quarter inch of ice. Map credit: Aeris AMP.
---
Overall Ice Expected Through

Sunday

Evening.
The darker the red is on the map above, the more we are concerned about
significant ice accumulations that would lead to difficult (if not impossible) travel as well as the potential of major power outages due to weighed down/snapped power lines and tree branches falling
. It is to be noted that the ice will come in rounds across the region – the freezing rain is not expected to be constant over the next several days. We'll break down the potential ice totals through
Sunday
evening for some select areas below. Map credit: WeatherBell.
---
Forecast Ice Totals - Oklahoma
. The heaviest of the ice across Oklahoma is expected to fall in northern and western areas, where a quarter of an inch or more is possible. The Oklahoma City area is still expected to pick up between a tenth and a quarter of an inch of ice, with some locally higher amounts along/north of I-40. A Freezing Rain Advisory is in effect for Oklahoma City through
6 PM
Saturday
, with freezing rain likely today through about midday
Saturday
before warming up and changing to regular rain.
---
Forecast Ice Totals - Kansas
. A wide swath of a half an inch or more of ice is expected across southern Kansas as we go from now into
Sunday
evening, with the best potential of three quarters of an inch or more from Dodge City to Medicine Lodge. A few city breakdowns:
Wichita: Ice Storm Warning in effect from

6 PM

tonight

through

Noon

Sunday

, with freezing rain likely from this evening until midday on Sunday. There might be a few hours

Saturday

afternoon where the temperature warms up enough for plain rain, but it would become freezing rain once again

Saturday

evening. Up to a half an inch of ice is possible. The heaviest is expected to fall

Saturday

and

Saturday

Night.
Dodge City: Ice Storm Warning in effect from

6 PM

tonight

through

6 AM

Monday

morning. While there is a slight chance of some freezing rain

tonight

, the chances ramp up during the day

Saturday

, lasting through the end of the weekend. Up to three quarters of an inch of ice is possible. The heaviest is expected to fall

Saturday

Night and

Sunday

.
---
Forecast Ice Totals - Missouri
. We are expecting over a half an inch of ice across central parts of Missouri as we head into the weekend, with the heaviest accumulations shifted a little north of where they had been expected yesterday. While this still brings areas like Joplin and Springfield up to 0.40" of ice, the heaviest (a half an inch or more) will fall across areas like Columbia and Jefferson City. A few city breakdowns:
Kansas City: Ice Storm Warning in effect from

Noon

today through

Midnight

Sunday

Night. Freezing rain will spread across the region today, particularly after the

noon

hour, and chances will continue through about midday

Sunday

, when temperatures warm enough for plain rain to fall. Up to a half an inch of ice is possible. The heaviest is expected to fall

Saturday

Night into

Sunday

.
St. Louis: Ice Storm Warning in effect through

Noon

Sunday

, with freezing rain moving in during the morning hours today and lasting through midday

on Sunday

. There might be a few hours

Saturday

afternoon where the temperature warms up enough for plain rain, but it would become freezing rain once again

Saturday

evening. Up to a half an inch of ice is possible.
---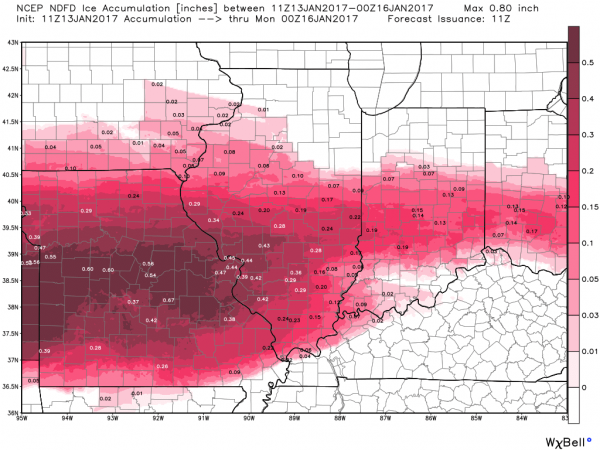 Forecast Ice Totals – Illinois and Indiana.
The heaviest icing is expected across parts of central/southern Illinois, where a quarter to half inch of ice is possible. Ice totals will decrease as you head east, but 0.10-0.20" of ice will be possible for Indianapolis. This ice will come in two rounds for Indianapolis – one this evening through
Saturday
morning, and a second
Saturday
Night into
Sunday
morning. A Freezing Rain Advisory is in effect for Indianapolis for this threat from
7 PM
this evening through
1 PM
Sunday
.
---
Forecast Ice Totals – Washington D.C.
Rain and sleet will move into the D.C. metro
tonight
, changing over to a freezing rain and sleet mix throughout the day
Saturday
. It may change over to all freezing rain late in the day
Saturday
before back over to rain and sleet
Saturday
Night. Ice accumulations are expected to be up to a tenth of an inch around the region.
---
Probability Of 0.10"+ Ice Sunday Into

Monday

Morning
. As we head through the weekend, the low pressure center will move north, bringing the potential of ice (and even some snow) north into northern Kansas, Nebraska and Iowa. Map credit: NOAA.
---
Winter Storm Watches
. Due to the icing threat for the end of the weekend and into early next week, Winter Storm Watches have been issued from eastern Colorado to central Illinois. A tenth to a quarter of an inch of ice is currently expected across Iowa, with up to three quarters of an inch of ice across parts of Nebraska. Across Kansas and southwest Nebraska, up to a quarter of an inch of ice is expected, along with some snow (which could totals 4-8"+ across northwest Kansas).
Summary:
A crippling ice storm is underway already this morning from Oklahoma to Indiana, with reports of a light glazing of ice in spots. We'll continue to see waves of freezing rain across these areas into the weekend, with ice totals of a half to three quarters of an inch or more likely across parts of Oklahoma, Kansas and Missouri.
This type of significant ice accumulations is concerning as it would lead to difficult (if not impossible) travel as well as the potential of major power outages due to weighed down/snapped power lines and tree branches falling
. Ice Storm Warnings and Freezing Rain Advisories are in effect across the region due to the ice threat. This system will move north as we head through the weekend, bringing (potentially significant) accumulating ice to end the weekend and begin next week across portion of Nebraska, Iowa and central Illinois. Winter Storm Watches are in effect across these areas.
D.J. Kayser, Meteorologist, AerisWeather
---
---
Climatology of Freezing Rain. Minnesota sees about 3-5 days a year with freezing rain (glaze ice). But the greatest frequency is found in New England. Here's an excerpt from Midwestern Regional Climate Center: "
The Midwest and Northeast are prime areas for freezing rain events. Note the high frequency areas in western Minnesota and western Iowa, and the band from central Illinois eastward through northern Indiana, Ohio, and eastward. In the high frequency band in the Midwest, an average of 12 to 15 hours of freezing rain occurs annually. While freezing rain can occur anytime between November and April, most freezing rain events occur during December and January
...."
---
Will a 5 Year U.S. Tornado Drought End in 2017?
Andrew Siffert includes some good news with his comprehensive overview at
BMS Media Centre
: "...
When the calendar flipped to 2017, a switch seemed to turned on for US severe weather season: severe weather impacted the Gulf Coast states with 31 tornadoes on January 2 (PCS 1711). Just two weeks into the year, 2017 already has 4.4 times more than the normal number of tornadoes. However, the great news is that 2016 ended with lower reported tornado numbers, and the preliminary numbers suggest that 2016 ended up as a year with the fewest tornadoes since 1954 (when records started)
..."
---
Excessive Salt Use is Hurting Minnesota Lakes, State Officials Warn
. Here's an excerpt from
Lake Minnetonka Patch
: "...
There are currently 47 waterbodies in Minnesota that tested above the water quality standard for chloride, with 39 in the metro. An additional 39 surface waters in the metro are near the chloride standard and many others are unknown. The data show that salt concentrations are continuing to increase in both surface waters and groundwater across the state. Currently, there are no environmentally safe, effective and inexpensive alternatives to salt. However, officials say residents can reduce salt at the source through smart salting application strategies
..."
---
---
---
Robots Will Take Jobs, But Not as Fast as Some Fear, New Report Says
. Is your gig ripe for disruption, automation, robotics and AI? Here's a clip from
The New York Times
: "
The robots are coming, but the march of automation will displace jobs more gradually than some alarming forecasts suggest. A measured pace is likely because what is technically possible is only one factor in determining how quickly new technology is adopted, according to a new study by the McKinsey Global Institute. Other crucial ingredients include economics, labor markets, regulations and social attitudes. The report, which was released Thursday, breaks jobs down by work tasks — more than 2,000 activities across 800 occupations, from stock clerk to company boss. The institute, the research arm of the consulting firm McKinsey & Company, concludes that many tasks can be automated and that most jobs have activities ripe for automation. But the near-term impact, the report says, will be to transform work more than to eliminate jobs
..."
McKinsey & Company
have the complete report
here
.
---
Netflix for Cars; $1,500/month To Drive Any Cadillac, Anytime
. Like every other industry, the car industry is being disrupted. This is an interesting concept, initially available in New York City - focusing on people who want a little variety in their vehicle diet. Here's an excerpt from
The Washington Post
: "
In what AdAge is calling a "Netflix for cars," Cadillac has launched a program that it says is a "first-of-its-kind luxury vehicle subscription service." The program is called Book by Cadillac and here's how it works: For starters, customers are no longer customers. They're now "members." A member pays a flat monthly fee of $1,500 (there's also a one-time $500 initiation and processing fee). For all this, the member gets unlimited access to several Cadillacs – from the V Series, XT5 and CT6 to an Escalade – for as long and whenever wanted. These same cars would cost between $60,000 and $100,00 if purchased outright, according to a Reuters report. The car is home delivered and the fee includes registration, taxes, insurance and maintenance costs. There's no mileage limit and if you want out of the program you just have to give 30 days' notice
..."
Press release
from Cadillac is
here
.
---
Clean Energy Spending Drops Most on Record as China Slows Growth
.
Bloomberg
reports: "...
Even as spending ebbs, the amount of wind and solar energy connected to power grids around the world continues to surge, gaining 19 percent in 2016, according to New Energy Finance. That's in part because investors are getting more bang for their buck as competition and technological advances have dramatically reduced prices for photovoltaic panels and wind turbines. "At the end of the day, investments in renewables are still outpacing conventional energy by two to one," Michael Liebreich, founder of New Energy Finance, said in an interview. "But from a climate perspective, there is reason for concern over any slowdown.
.."
---
All of Las Vegas's City-Owned Buildings Now Run on Renewable Energy
.
Motherboard
has the story: "
Las Vegas is best known for its blinding neon signs and indulgent venues, but more recently the city government has set its sights on keeping the lights on in a more sustainable way. Las Vegas's city-owned buildings and other public infrastructure are now entirely powered by renewable energy as of December, including about 48,000 streetlamps, lights inside City Hall and power at city parks, Las Vegas spokesman Jace Radke said
..."
---
Start-Up Company That Wants to Recycle Electric Batteries On Display at Detroit Auto Show
.
WXYZ-TV
in Detroit reports: "...
One company is showcasing a new way to reuse electric car batteries. Shiv Rajendran of Totus Power said, "We actually take somebody else's waste and use it to provide electricity to people in developing countries." That's the mission behind Totus Power. Shiv, an electrical engineer, has found a way to make electric cars even more green. He takes used electric batteries that would've been throw out and gives them another purpose. "They are not actually dead, they just don't have the power to run a car, but they are almost as good as new for running tablets, cell phones, laptops, essentially replacing the lead-acid batteries that the majority of the people in developing countries use," he explained
..."
---
How Netlfix is Deepening Our Cultural Echo Chambers
.
The New York Times
has an interesting article; here's an excerpt: "...
Instead, we're returning to the cultural era that predated radio and TV, an era in which entertainment was fragmented and bespoke, and satisfying a niche was a greater economic imperative than entertaining the mainstream. "We're back to normal, in a way, because before there was broadcasting, there wasn't much of a shared culture," said Lance Strate, a professor of communication at Fordham University. "For most of the history of civilization, there was nothing like TV. It was a really odd moment in history to have so many people watching the same thing at the same time
..." (Image credit:
Doug Chayka)
---
Hotel or Cruise Gone Bad?
It turns out it's a luxury hotel, shaped like a cruise ship. Ah!
Atlas Obscura
clears up any lingering confusion: "...
Believed to be the world's first hotel designed as a cruise ship, the Sun Cruise Resort and Yacht is over 500 feet long and nearly 150 feet tall. Complete with 211 rooms, six restaurants, a sculpture garden, and a volleyball court, the giant misplaced boat sits peculiarly atop a tall cliff to give the impression that it's run aground. The resort is known throughout the region for its eye-catching appeal, and it takes full advantage by playing the sounds of bird calls and oceanic waves to mimic the actual experience of sailing on a cruise liner without the consequential seasickness
..."
---
Watch Planes Try to Land In The World's Windiest City
. I had no idea the world's windiest city is Wellington, New Zealand. Remind me to never fly there; here's an excerpt and harrowing video clip from
Atlas Obscura
: "
Wellington, New Zealand is considered to be the windiest city on the planet. This is good for the local wind turbines and dramatic hair-blowing photoshoots, but not so great for passengers aboard planes landing at Wellington International Airport. On days when a gale is blowing, aircraft tilt and sway as they descend to the runway, occasionally having to abort the landing at the last moment.
In May 2016, an Air New Zealand flight experienced "massive lifts and drops, ups and downs, with a lot of banging and crashing and lots of squealing," passenger Carl-Ann Herbert told the New Zealand Herald. It was a similar story a few months earlier, when another Air New Zealand flight, according to passenger Eleni Kanelos, "moved side to side, then it just dropped and there were a few screams..."
---
---
TODAY
: Partly sunny, brisk. Winds: W 5-10. High: near 20
SATURDAY NIGHT
: Partly cloudy. Low: 7
SUNDAY
: Clouds increase, above average temperatures. Winds; S 5-10. High: 27
MONDAY
: Icy mix, most roads wet/slushy. Winds: SE 7-12. Wake-up: 18. High: 31
TUESDAY
: Light mix slowly tapers off. Winds: NW 7-12. Wake-up: 29. High: 32
WEDNESDAY
: Mostly cloudy, relatively mild. Winds: SW 5-10. Wake-up: 23. High: 34
THURSDAY
: Peeks of sun, hints of March. Winds: S 7-12. Wake-up: 24. High: 38
FRIDAY
: More clouds than sun, grilling weather. Winds: S 8-13. Wake-up: 29. High: 42
---
Climate Stories...
2016: Hottest Year on Record.
Here's an excerpt of a detailed explainer at
Climate Signals
: "
Independent temperature analyses have each confirmed 2016 as the hottest year on record. In addition, preliminary reports from NOAA and NASA indicate that the surface temperature records kept by those agencies are all-but-certain to place 2016 as the warmest year since the record-keeping began in 1880. Once confirmed, 2016 will mark the 3rd year of record-breaking surface temperatures, a first in the modern era of record keeping, as greenhouse gas emissions continue to drive warming. This streak of record-breaking temperatures reflects the unabated pace of global warming seen even more clearly in the long-term data over the past several decades. Across this most recent warming streak, every month between May 2015 through August 2016 was the hottest edition of that month since record-keeping began in 1880. July and August of 2016 set a new record in a two-way tie as the hottest month of any month in meteorological history. 15 of the 16 hottest years on record have occurred since 2001, according to NOAA.
.."
Graph credit: Dr. Gavin Schmidt and John Abraham.
---
Tillerson Hedges on Climate Science but Supports Paris Agreement.
Here's a summary from
InsideClimate News
: "
Rex Tillerson told the Senate panel considering his nomination for secretary of state that he supported the United States remaining in the Paris climate agreement and that he has made his views known to Donald Trump. The position, repeated several times during a day-long hearing of the Senate Foreign Relations Committee, puts him at odds with the president-elect's campaign vow to "cancel" the landmark global accord. But Tillerson acknowledged that this advice would have to be squared with Trump's own promises to put "America first" in the new administration's energy policy, which heavily favors the unrestricted use of fossil fuels
..."
---
U.S. Northeast Warming Is Off The Charts, Study Finds
. Here's an excerpt at
Fusion
: "
A new study by researchers at the UMass Amherst Northeast Climate Science Center (NECSC) suggests that temperatures in their neck of the woods will increase much faster than the global average. Published in PLOS ONE, the study found that temperatures across the northeastern United States could reach the critical 2-degrees Celsius warming threshold up to two decades before the rest of the world does. The Paris Agreement, which was ratified late last year and which President-elect Donald Trump has threatened to undermine, calls for the global community to limit temperature rise to 2°C (3.6°F), and even 1.5°C (1.8°F) if possible. UMass geosciences professor Raymond Bradley, an author on the study, said this benchmark lulls many "into a false sense of security, thinking that the 2-degrees C target is somehow a 'safe' limit for climate change.
.."
PLOS
has the study recap and highlights
here
.
---
Faith Leaders Reframe Climate Change as Moral Issue
. Here's a clip from
The Columbus Dispatch
: "
Priests, pastors and ministers nationwide are spreading the gospel of climate change — as are imams and rabbis. In recent years, faith-based advocacy has emerged as a powerful tool in the environmental movement. By reframing climate change and sustainability as moral issues, religious leaders hope to advance environmentalism by elevating it above the political fray. "I believe that all religions, all faiths share a common goodness," said Zerqa Abid, founder of My Project USA, a Muslim youth organization in Columbus. "All of us have to look within our houses, within our cities, in our everyday lives. "We take care of the Earth, or we destroy it." Americans report fairly high levels of spirituality, but most do not view climate change as a moral issue, according to a 2015 survey by the Yale Program on Climate Change Communication
..."
---
---
Think Before You Fly. How to Cut Aviation Emissions
. This one is more challening than just driving an electric car or living in an energy efficient house.
NEWSWEEK
has the story; here's an excerpt that made me do a double-take: "...
While in many countries new cars, domestic appliances, and even houses now have mandatory energy efficiency disclosures, air travel's carbon footprint is largely invisible, despite it being relatively much bigger. For instance, a return trip from Europe to Australia creates about 4.5 tons of carbon. You could drive a car for 2,000 kilometres (over 1,200 miles) and still emit less than that. And the average per capita emissions globally is around 1 ton. Several studies have found people to be quite ignorant of how their own flying behavior contributes to climate change. It's not hard to see why. Research into airline websites shows little mention of environmental impact. Green NGOs are often quiet on the issue, perhaps being reluctant to "preach" to their members to fly less, and concerned over accusations of hypocrisy as their own staff fly around the world to conferences
..."
---
Climate Change is the World's Biggest Risk, in 3 Charts
.
Climate Central
reports: "
The rise of the machines isn't the biggest threat to humanity. It's

climate change, extreme weather and other environmental factors.

The World Economic Forum surveyed 750 experts on what the most likely and impactful risks facing humanity are in 2017. In a

report released Thursday, they ranked extreme weather as the most likely risk and the second-most impactful, trailing only the use of weapons of mass destruction. Climate change is responsible for driving an increase in the likelihood and intensity of extreme weather events, notably heat waves.
..."
Graphic credit
: "
A matrix outlining the most likely and most impactful risks facing the world in 2017." Credit: World Economic Forum.
---
There's Snow in Portland, So Is Global Climate Change Even Real? Yes, say Scientists
. People continue to confuse weather with climate. Weather is a single argument. Climate is 40 years of marriage. 40 years of arguments. Here's an excerpt from
OregonLive.com
: "...
Then, the more important thing: "You can't judge the trend by a single data point," Bonk said. "'Climate' is what you expect," Bonk told us, "but 'weather' is what you actually get. So one episode of snow or one sequence within a particular season does not imply that our overall climate is going one way or the other." "You need to look at the long term trend over decades to hundreds to thousands of years," he added. The Weather Service focuses on weather, Bonk said, or what is happening now and in the next couple of weeks
..."
Photo credit
: "
Mack Faamausili of Northeast Portland headed into work on bike, only to return home after learning it was closed for the day due to the winter storm. In Northeast Portland, residents wandered through the streets and in the snow in the early morning hours. Several inches of snow blanketed Portland, January 11, 2017.
" Beth Nakamura/Staff.
---
Climate Change is Fueling a Second Chance for Nuclear Power
. PRI,
Public Radio International
, has the story: "...
Now, the idea of cooling a reactor with liquid sodium is being revived by a generation of nuclear scientists and entrepreneurs who see climate change as a bigger threat than nuclear power. The highest-profile liquid sodium project is being developed by TerraPower, backed by Bill Gates and his former Microsoft chief technology officer Nathan Myhrvold. "From a technical perspective, we've solved every technical problem that's occurred," Myhrvold says. "But I can't tell you, 'Oh yes, we've already been successful.' It's going to be many more years of hard work before we are successful." "So we made a crazy bet," he says, "and we're going to keep making that crazy bet.
.."
---
---
Guest Column: Climate Stewards' Views are Independent. Here's an excerpt of an Op-Ed at Maryland's Capital Gazette: "...
Sea level in Annapolis has risen by about a foot over the past 85 years and is projected to rise at an increasing pace in the future. Current efforts to protect our city from rising seas involve adaptation, but even if the efforts succeed in holding back nuisance flooding and storm surges for a decade or a century, adaptive measures do not address the underlying problem: global warming is melting sheet ice and glaciers and raising ocean temperatures, thus raising sea levels. Annapolis cannot stop global warming, but as citizens and a city we can, while implementing adaptive measures, set examples for how to shift away from fossil fuels and advocate strongly, as people on the front line of climate change, for effective mitigation policies at the state, national and international levels
..."
File photo
:
Water Environment Federation
.